Setting Up Campsites: 7 Tips For A Quick & Easy Camp Setup
People are constantly asking me for camping tips that make camp setup and teardown less work, while allowing them to achieve their desired comfort level.
Setting up campsites doesn't have to be a long, drawn-out chore. The most important tips for a quick and easy camp setup are the ones that begin before you ever leave home.
Psst we're compensated…see our disclosures.
7 Tips For Simple & Fast Camp Set Ups
You know the scenario, you're ready for a long weekend of relaxing at your ideal camping spot and the first thing you want to do is sit back with your favorite beverage and enjoy the fresh air and awesome sights & sounds of nature surrounding you. But wait, there's a lot of hard work to be done.
Whether you are backcountry camping, tent camping or RVing in a travel trailer or motorhome, planning and preparation are key to swiftly setting up a comfortable campsite. We have simple rules regarding camping organization our entire family follows so our trips start and stay clutter-free and fun!
---
Tip #1 Advanced Planning For Your Particular Destination
Only bring gear you need for your trip. A little bit of pre-planning goes a long way and will save you tons of effort later. You need to know your destination campsite and surroundings. What gear will you need? What gear can you leave at home?
For example, if you are staying in designated campsites within an established campground in National Parks, you may have access to the facility's bathroom area, trash bins, fresh water source and waste dump facilities. So, if you are car camping in tent sites, you may not have to bring your portable toilet, portable shower or filled water jugs.
On the other hand, if you are staying in a primitive site, you may have to bring your own picnic table, fire ring, bottled water etc. Use my FREE printable camping trip planner template to help you make a list of things that you need to pack for that particular campsite.
---
Tip #2 Use A Checklist
After you have a good idea about your specific destination, use a comprehensive camping checklist to finalize your gear list for your trip. Personally, I like to gather all of the items I need for a trip, then check them off from my checklist as they are packed/loaded.
The first step in developing your own list for simple camping trips is to identify only the things you absolutely need for your trips. That would be the smallest list of critically important things you must have for last minute camping excursions.
---
Tip #3 First In, Last Out: Packing & Unpacking
Don't make yourself dig for something that is buried if you need it for your basic setup.
For example, you won't need your sleeping bag, air mattress and extra padding BEFORE you need your tent body and tent poles. You have to erect your tent FIRST before you can put stuff inside it.
A good time to think about this is at THE END of your trips. When you break down your camp, keep your gear organized by packing your items in the reverse order of when you need them for your next camping trip: Remember: First In, Last Out.
You also want to keep "like items" together. Most people would not think about looking for a sleeping pad that is packed under a camp stove.
When we camp with our tent we have a 3 box system: "kitchen gear", "camping gear" and "personal gear". All are permanently packed with their appropriate items.
When we camp with our RV we have a similar system but instead of using storage boxes, we have dedicated areas in our RV's interior and exterior storage compartments.
We also keep a "restock list" when we are camping. It is a little notepad we bring on all of our trips. Each time we run low on something (like body soap, dish soap, batteries, duct tape etc.) we add it to the list. Then, when we get home we add those items to our ready-packed gear so it is prepared for our next trip.
---
Tip #4 Emergency Gear Accessible
Have you ever been faced with unpacking half your vehicle to get to the spare tire after you have a blow-out on the highway? The best way to avoid that dangerous situation is to store your emergency equipment in a good place with easy access when you need it rapidly.
Minimally, think about quick retrieval of your roadside emergency equipment, first aid kit and drinking water.
---
Tip #5 Use Modern Gear
The latest camping gear is designed to be set up in a few basic steps, and, for maximum comfort when you're using it. You can see the best heavy duty camping chairs that are uniquely designed for people who are:
heavy, or
tall, or
have bad backs, or
want a rocker, or
want lightweight gear for backpacking etc.
Camping equipment manufacturers are realizing one size does not fit all for modern campers, so, gear options are expanding to fit your needs like easy set-up chairs that have lumbar support for your back and a cooler in the armrest for your drinks.
---
Tip #6 Assign Tasks
If you are camping solo you are on your own when it comes to doing the work to set up and tear down your camp. But, if you are camping with more people, please don't try to be the hero and do everything yourself.
If everyone has a job, your setup will be much easier and faster. And, if you usually camp with the same people, you can get a routine going and your setup will run like a well-oiled machine.
If each person has their jobs and knows how to do them, your set up will be less stressful and you'll all get to the fun stuff sooner.
---
Tip #7 Mentally Set Up Your Campsite
If you are camping in a location for the first time, you need to familiarize yourself with the area. Many inexperienced campers get a little too anxious to start camping. It doesn't take a lot of time to think through your setup before you start unpacking your gear. The last thing you want to do is move your gear twice (or more … yikes!).
Look at your campsite area, then, layout your space MENTALLY before you actually start dragging your gear out. Determine the best place for your camp kitchen, for example. Use the "move it once" principle, and only start unloading after you have decided on an intentional plan. Here are some items you should consider…
Campsite Layout
There are many different options to design your perfect campsite if you are camping in remote wilderness dispersed camping locations with lots of land around you.
But, if you are setting up in a busy campground, you may have limited space available without many choices regarding how you want to arrange your site.
For example camp fire rings and vehicle parking areas are pre-determined at most campgrounds, but, when you are in remote camping locations, you can usually set up your campfire and park your vehicle wherever you want.
---
Weather
Setup for weather conditions expecting the worst case scenario and hoping for the best good weather.
Seasonal Weather: Consider the weather as you are thinking about your campsite layout. If you are doing some winter camping you'll want to set up in a sunny location to get as much natural heat as possible.
Check out my tips on how to heat a tent without electricity for winter camping in tents and my winter RV camping tips if you'll be camping in an RV during wintry conditions.
In the hot summer months, you'll be looking for a comfortable shady spot.
It is important to maintain a safe body heat when you are camping in extremely cold or hot conditions.
The milder temperatures of spring and autumn make camping easier but don't let your guard down. In Phoenix we have fantastic fall camping conditions, usually.
In the early fall, we have experienced daytime highs and overnight lows that are still well into the 100+ F degree temperature range.
In colder parts of the country, you may experience an early snow.
Wherever you are camping, be prepared for surprises.
High Winds: When you are camping with strong winds you have several things to consider, the safety of yourself and your gear. Make sure you are never camped around dead trees because they can come crashing down in windy conditions.
If it is really hot, you may want to position your tent or trailer openings toward the wind for increased ventilation.
If it is cold, you'll probably want to direct those openings away from the wind and position your setup in an area with natural windbreaks for your protection from the wind.
Rainy Weather: When you are camping in the rain you should consider a few things before arranging your campsite.
Setting up on higher ground will help you maintain a dry tent and give you a good night's sleep.
If you are in a trailer, it will help you avoid sinking into mud.
You also need to be aware of local weather patterns.
In Phoenix, for example, you can be camping in completely dry conditions and suddenly have a flash flood on your hands without much warning. That is also true when you are camped in areas with canyons and washes.
Sunny Conditions: If you rely on the sun to power your solar products for camping, make sure you position your gear for maximum efficiency.
Even if you use portable solar panels for RV camping, you can only move the panels as far as the charging cords allow. Think about the path of the sun and areas of shade before you set up your campsite.
Trip Weather Forecast: Be sure to check the latest weather forecast for your trip route and destination. You should also keep an eye on updated forecasts during your trip. You know that old saying: Wisdom is better than strength!
---
Local Wild Animals
Research your camp destination so you understand what types of animals you can expect to encounter at your campsite.
Most small animals are interested in your food. They will get into your fresh food and your trash. Make sure you store food and trash away. Keeping a clean campsite is usually enough to prevent problems from these critters.
Larger wild animals are a different story, especially bears. If you are camped in bear country, like camping at a campground in Yosemite National Park, you will probably be provided with bear-proof boxes for proper food storage in designated areas.
If you are dispersed camping in a remote location, you might think about using bear poles.
If you don't know what they are, a bear pole is a structure built by humans to store food off the ground so it is inaccessible to wildlife.
Typically a horizontal log is run between two upright trees at least 10 feet above the ground and 4 horizontal feet from anything a bear can climb.
The idea is to not attract bears in the first place. That keeps you, your food, your gear and the bears safe.
Get more safety tips while camping in bear country.
---
Campfire Safety
Enjoying a good campfire is one of the best parts of camping!
Make sure kids understand the dangers associated with campfires.
If your campsite has a designated fire pit, use it.
If you are dispersed, build a campfire ring that is a safe distance from all flammable materials and don't forget to look up so you can avoid building a fire below low hanging branches.
Get more tips on how to start a campfire.
It's also helpful to know the best types of wood to burn. We have that information and more in this post: How much firewood do I need for camping?
---
General Campsite Safety
Tripping is one of the most common injuries campers experience.
Set up your campsite so large rocks and other natural tripping hazards are not in your walking paths. Get more camping safety tips for your entire trip.
Bugs are another cause for concern. Try to set up away from areas the bugs are attracted to, like standing water. Use your screens to keep tents and RVs bug-free.
---
Sleeping Considerations
After a long day you want to rejuvenate yourself with a comfortable night's sleep.
The best sleeping area, whether you're camping in a tent or RV, will be in a flat area.
If you set up camp on flat ground, use your pillow to elevate your head. Medical experts say there are benefits to sleeping on your back with your head elevated.
If you can't find level ground at your campsite, set up your sleeping area so your head is on the high side of the sloped ground.
---
Fresh Water & Waste
One of the main reasons you choose a campsite with full hookups is the convenience of having fresh water and dump facilities right at your site.
If your site doesn't have hookups, hopefully you are in a good camping spot with easy access to the fresh water supply and waste disposal area. Here's how to refill fresh water tank during camping trips with and without water pumps.
Remember, a water filter that is designed to attach to a hose is usually designed to remove minerals and metals, NOT chemicals, bacteria, viruses, spores and parasites. So, make sure the water is potable before using it for drinking, food prep, washing dishes, showers etc.
If you are boondocking, the governing agency will have rules regarding the distance you must be from roads and bodies of water. They don't want you polluting natural water sources with your soapy water from washing dishes, gray water from showers, or human bowel movement waste from catholes. (It is also a good idea to use bio-degradable soap to be eco-friendly.)
A safe place to set up your campsite is usually 100 feet from a lake or stream but you need to check the particulars of your campsite location for specific details.
---
Camp Kitchen Area
When setting up your camp kitchen it is a great idea to think about how your home kitchen functions. The "work triangle" is a good place to start. You need easy access to:
Stored food area (refrigerated/non-refrigerated): Keep your food out of direct sunlight, keep coolers in shade from tree branches or under tables or other structures.
Sink/trash area: We always set up a hand washing station near our camp kitchen. We have potable water in a 5 gallon jug with a spigot, pump soap, clean hand towel and paper towels. It is great for hand washing and cleaning fruits and veggies. Also, you don't want to walk halfway across your campsite to throw out your empty wrappers from hot dogs and buns! Keep your trash container within easy reach for cooking and don't forget to bring a good supply of plastic bags for your garbage.
Prep/cooking area: Make sure you have easy access to tables for prepping your food as well as any tabletop cooking equipment you'll be using (like propane camp stoves and grills).
---
Campsite Food
Get your FREE printable camping trip & menu planner before you create your next meal plan!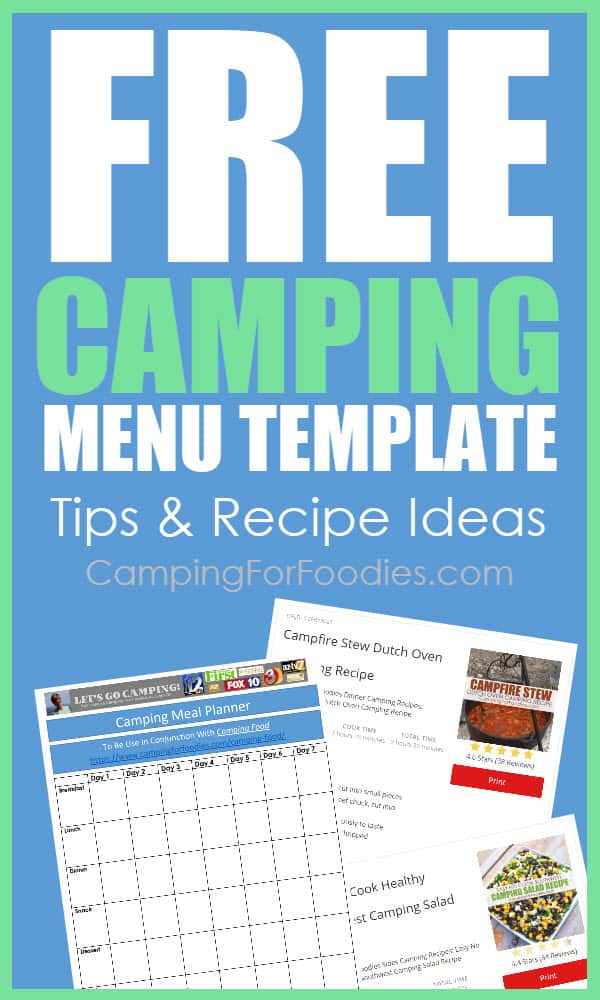 Once you get your camp kitchen set up, you'll need to cook some yummy food. Whether you want simple things for quick meals or almost-gourmet feasts, we've got tons of ideas for every meal of your trip! And, take it as a compliment when you get hand signals from campers who are eating your food … a mouth full of food and a thumbs-up is all you need to know you have satisfied their bellies!