Fun And Unique Mother's Day Gift Idea Guide For Camping Moms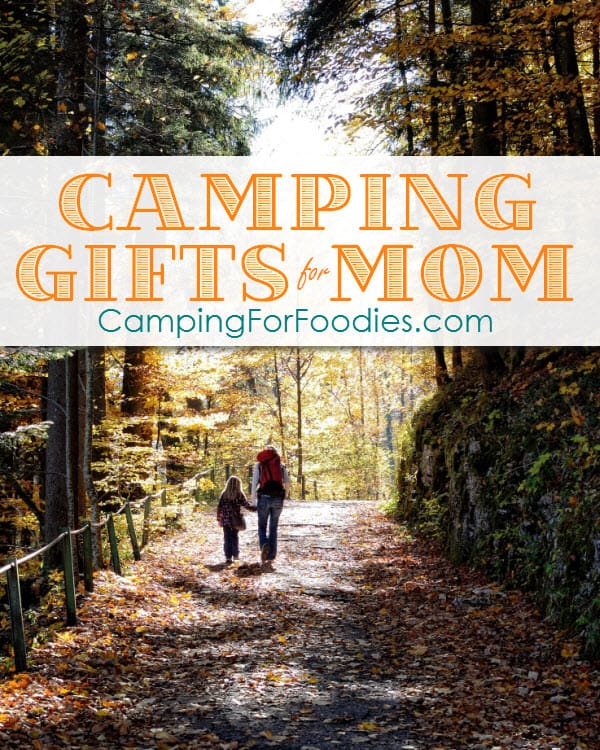 Fun And Unique Mother's Day Gift Idea Guide For Camping Moms
It's fun to give and receive totally cool presents for any occasion! Mother's Day is no exception and this year it falls on Sunday, May 12, 2019! We found super-cute camp things you and mom will absolutely adore. From pajamas to cocktail shakers. From bird houses to puzzles. Mom will love the camp gifts that made our Fun And Unique Mother's Day Gift Idea Guide For Camping Moms! Psst we're compensated…see our disclosures.
---
Mom will love you for getting her this "I'm Unplugging" Hammock With Attached Accessory And Carrying Bag! She will be able to relax in this hammock and have easy access to her favorite book, drink and sunglasses in the attached accessory bag! This is one of those camping gifts mom will never forget!
&
---
How cute are these Mother's Day gifts?!?!? This adorable Retro Camper Scented Wax Cube Warmer is one of my personal favorites! I love the fact that you can choose from tons of different scents in wax cubes and because the warmer is electric, you don't have to worry about the open flame, like you do when burning a scented candle. We say, leave that for the campfire 🔥. It makes a great decoration for inside a home or an RV. If your camping mom likes surfing while camping, she will love receiving the Surf Woody Wagon Scented Wax Cube Warmer too!
Retro Camper Scented Wax Cube Warmer
Surf Woody Wagon Scented Wax Cube Warmer
&
---
Whether mom loves watching birds at home or at the campsite, this fun retro trailer birdhouse will be a real conversation starter (for the humans, that is … come to think of it, the birds might do a little singing about it too!) 🐤🎵🎵🎵🐤 That's why these made our Fun And Unique Mother's Day Gift Idea Guide For Camping Moms.
&
&nbsp
---
Vintage Retro Trailers Jigsaw Puzzle – 1000 Piece – Bright, Cheerful,
On those occasions when a few raindrops fall at the campsite, mom will love this jigsaw puzzle with a totally adorable vintage trailer theme! It's so cute that she might not even wait for the sun to disappear! The weather forecast calls for jigsaw puzzles! 😉 LOL We think this is a fun Mother's Day gift idea for camping moms because the retro trailer images are bright and fun and it is a gift she can actually use together with her friends and family while camping … rain or shine! 🌞
&
&nbsp
---
This Camp Casual Mug is perfect for a freshly brewed cup of camp coffee! The whimsical design features camp signs, wildlife and camp trip memories against a sweet tangerine color! The 15 oz. ceramic mug is dishwasher and microwave safe too! And, really, what camping mom do you know that doesn't want to start her morning with a strong cup of coffee in a fun mug? If your mom likes enjoying coffee with others, you might want to get her an entire Camp Casual 4 Mug Set that includes 4 unique colors and fun camping-themed designs.
&
---
Another Day in Paradise Retro Glamping Trailer Wine Bottle Beverage Insulator
Cold storage, including keeping drinks cold, at the campsite can be a problem and a great way to help the situation is to use huggies. If your mom is a huggie fan, she will get a kick out of this retro glamping trailer bottle hugger that is large enough for wine bottles! Keeping white wine chilled at the campsite is easy and stylish and that's why these bottle huggers made our Fun And Unique Mother's Day Gift Idea Guide For Camping Moms.
&
&nbsp
---
I'm Unplugging Hammock

You know mom would love relaxing in this "I'm Unplugging" hammock with easy access to her magazine and drink! There are pockets for sunglasses and phones too (hopefully her phone is off while she is camping and unplugging!) She'll be so relaxed in this hammock, she may even nap right through dinner prep 😴 so, here's an idea, you can give her a second Mother's Day gift and cook an awesome camp dinner for her!
&
---
Camping For Foodies Sleek Brushed Stainless Steel 5-piece Martini and Cocktail

With a message like "Camp, Hike, Cook, Drink, Eat, Repeat" all the bases are covered in this super cool stainless steel camping cocktail shaker gift set! Nothing beats fresh muddled fruit and fresh herbs to make a gourmet lemonade or mom's favorite martini! The decorative box means this unique Mother's Day Gift Idea is ready to give … no wrapping required! You are welcome 😉
&
&nbsp
---
These happy camper cocktail napkins are so fun! The colorful retro camper scenes are almost like a little piece of artwork! The 5″ square 3-ply napkins are the perfect size for happy hour festivities and there are 20 in each package. These napkins are so cute … your camping mom may want to frame them instead of use them as napkins! LOL 🤣
&
---
Camping For Foodies Retro Camper Trailer, Camp, Hike, Cook, Drink, Eat,

We love the message "Camp, Hike, Cook, Drink, Eat, Repeat" and this totally cute easy fitting tri-blend t-shirt with pink retro trailer design! This shirt is so soft and comfy, your camping mom may want to wear it all night long (yes, we mean that literally!) And, if she does … no judging … she can do whatever she wants on Mother's Day! She'll love receiving this fun camping tee as a gift. 🎁
&
&nbsp
---
This funny campfire themed graphic comes in an apron with pouch pockets too! We say, you can't remind people enough: Every Camper Knows … If Your Shoes Are Smokin' Back Away From The Campfire! If you camping mom has a sense of humor and loves to cook, she will love receiving this funny apron as a Mother's Day gift! It has pouch pockets, thermometer-pen pocket, waist ties and a 1-inch wide neck with adjustable strap. Let's get camp cooking! 🍔
&nbsp
---
"Glamping" Women's Cotton Lounge pants/PJ Bottoms
Not all pajamas and lounge pants are created equal! Be still my heart with this adorable retro trailer glamping fabric design … We just love these glamping pj bottoms! And, for the record, it is totally acceptable to be in your pj's while cooking your camping breakfast over the campfire … that time extends to lunch on Mother's Day! Just sayin! 😉
&
&nbsp
---
Camping For Foodies Flexible Cutting Mats with Retro RV Camper Theme
Fun and colorful retro camper trailer design and a message of "Camp, Hike, Cook, Drink, Eat, Repeat" makes food prep a blast with this flexible cutting mat set that has three sizes for different tasks! EVERYONE is RAVING about these and that's why they made our Fun And Unique Mother's Day Gift Idea Guide For Camping Moms!
&
&nbsp
---
You always need tote bags to carry stuff on camping trips! This colorful retro RV camper trailer canvas tote bag is made of cotton and has a zipper too! It is sturdy and sassy all at the same time! It's a fun Mother's Day gift idea that can be used anywhere (not just while camping). And really, when camping moms are not camping … they want to be camping … so, with this tote they can always carry a little reminder of the great outdoors. ⛺
&
---
This Glamping with MaryJane: Glamour + Camping book is soooooooo fun! It's all about glamorous camping with information on trailers, backyard glamping, housekeeping, gear, safety, entertainment and more! It even spotlights women who settled in the West and their 3 G's of grit, grace and glam! Want more Mother's Day glamping gift ideas? Check out our post: Cute Glamping Accessories And DIY Glam Camping Ideas And Tips for ridiculously adorable glam camping accessories that make awesome gifts!
&
---
Yes, you can wear makeup while camping! If your camping mom likes to use a little makeup on her camping trips, she will love receiving this Waterproof Travel Makeup Bag gift for Mother's Day. It is awesome for carrying beauty products whether you are using an RV bathroom or using a public campground shower facility. The bag is foldable, lightweight and washable.
&
---
Whimsical socks are always a fun gift! These Trailer Park Socks are brightly colored and the little campers set in the evergreen trees with white fluffy clouds are sure to put a smile on the face of anyone who sees them … especially the camping mom who receives them as a Mother's Day gift! 🌲
&
---
We've got more gift ideas in these posts:
---
---
Take Mom camping on Mother's Day
Just an additional thought…what better way to give mom her special camping gift than on an actual camp trip! I'm sure she would love a special camp meal cooked just for her! Here are some fun and easy camping recipes as well as some delish cocktails!
---
Get More Camping Gift Ideas From These Posts!
Get Fun Camping Wrapping Paper And Creative Gift Wrap Ideas here!
&
---
No time to look for recipes, create a menu and write a grocery list? No Problem! Get our 3-Day Dutch Oven Camp Menu Plan here!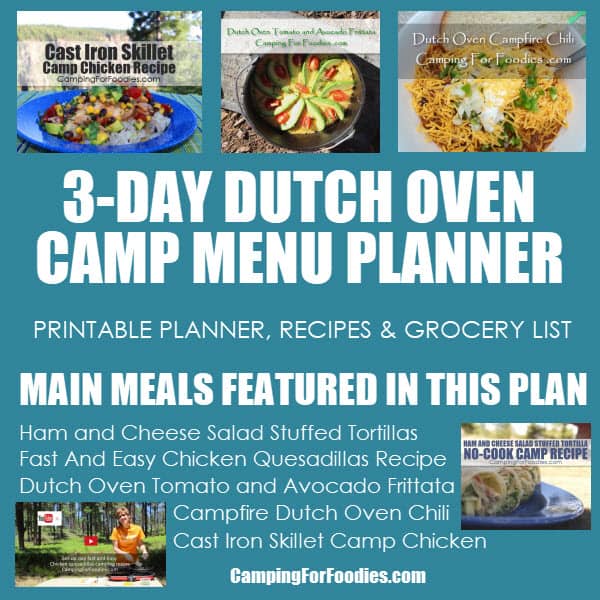 ---
If you need camping recipes and menu ideas, you can find them here at the Camping For Foodies Camping Recipes list.
Don't miss a thing…sign up for Camping For Foodies email updates!
Your purchase of our products will help support World Vision ® Building a better world for children.