Gift Ideas RV Owners Will Be Crazy About
Awesome Gift Ideas RV Owners Will Be Crazy About!
Looking for unique RV gift ideas? We found tons of them! From ingenious RV accessories and electronic gadgets to fun travel journals, maps, decor, clothing, kitchen, barware and more! We've got a great list of gift ideas RV owners will be crazy about (many are on our personal wish list)! Psst we're compensated…see our disclosures.
---
RV owners have some pretty sweet digs for relaxing inside their rigs … but, when it comes to outside relaxation … there are lots of extra options! This "I'm Unplugging" Hammock With Attached Accessory And Carrying Bag is one of the most relaxing hammocks on the planet because the attached accessory bag allows you to stay reclined as you reach for your drinks, sunglasses and personal electronic devices that are conveniently tucked into the attached bag within arm's reach! When you are done using the hammock,  just fold it up and pull the string for easy transportation and storage! Check out the video to see it in action!
&
---
In a Hurry?
Note:

These images are "clickable"
so if you want more information, pricing or want to
get it fast … please click on the image.
If you want to know
why we love each one of these Awesome Gift Ideas RV Owners Will Be Crazy About … please scroll down and read on.
&
---
PRACTICAL BUT COOL RV GIFT IDEAS
---
Storing valuables in an RV can be challenging. This HitchSafe HS7000 Key Vault is ingeniously designed to secure keys, cards and valuables inside the receiver! It features metal construction and the lock combination can be changed with 10,000 codes possible. My husband saw this and said "This thing is so cool! Why didn't I invent that?!?" My response…Good question! 😉 We have more campsite security gift ideas RV owners will totally love in our A Secure Campsite Protects Valuables From Theft post!
&
&
---
Having a full set of tools is important! Get our FREE printable RV Tool Kit Checklist here. It's also good to have a handy multi-tool when traveling in an RV. This Digital Air Gauge Car Rescue Tool is a combo Digital Air Tire Gauge, LED Flashlight, Seat Belt Cutter, Glass Punch Breaks Side Window in Emergency and more.
&
&
---
Trash cans are big and bulky but totally necessary … or … are they? Because space is always tight when RVing, using gadgets that save space during storage and transportation is critical. This Hang N Out Trash Bag Holder eliminates the need for a trash can. The bag holder mechanism fits snugly over tires and holds a 30-gallon drawstring trash bag open and ready for use. P.S. I just had somebody tell me I was a genius because I have this cool gadget in this blog post BUT I didn't invent it … I just found it so I guess that means I am a genius camping shopper! 😉 LOL
&
&
---
Taz "Back Off!" Spare Tire Cover
Spare tires are an absolute necessity for RV owners but who says the protective cover needs to be boring? This Taz "Back Off!" Spare Tire Cover says what so many RV drivers want to say when a vehicle driving behind us is tailgating…BACK OFF! LOL! 😉
&
---
Wanna be a Rock Star to a friend who owns an RV? Get them a Tandem Tire Changing Ramp! I'm not kidding!!! We have friends who have a business that requires them to tow lots of trailers across the country (getting the unavoidable flat tire on the highway every once in a while) and they turned us on to this little gem. You just drive the good tire on the ramp and the flat tire is lifted off the ground high enough to change the tire WITHOUT A JACK AND WITHOUT EMPTYING CARGO (even horses can remain inside a horse trailer!!!) There is a 15,000 pound limit which means it can handle most travel trailer RVs, cargo trailers and horse trailers!
&
---
Universal Clip-On Towing Mirror
Visibility to change lanes when towing a trailer with a car, SUV or even a truck with small mirrors is a challenge because the standard vehicle mirrors don't extend far enough to see traffic very well. That's when using Universal Clip-On Towing Mirrors becomes necessary. These mirrors make driving safer and nervous passengers feel more secure. Drivers with those types of passengers will thank you over and over for this gift! 😉
&
---
Some RV beds have awesome mattresses … most do not. Using an RV Memory Foam Mattress is a great way to improve a less-than-desirable RV mattress! This one features 2 inches Memory Foam, 2 inches Pressure Relieving Comfort Foam, and 4 inches High-density Base Support Foam!
&
&
---
Happy Campers Personalized Campsite Flag
Marking your territory with a campsite flag is fun and an awesome gift for RV owners when you get it personalized just for them! This Happy Campers Personalized Campsite Flag is one of my favorites because it includes a BBQ grill … and … you know how much I love good camping food!?!? I didn't name my blog Camping For Foodies for nothing, ya know! 😉 Want more ideas for personalized gifts for camper owners? Check out our Personalized Camping Gifts For RV And Tent Campers post!
&
---
When we are RVing, we are always hanging something around our campsite … like lights, banners, flags, and whatever else we can think of … LOL! These RV Designer Klippy Clips are great for hanging stuff from an RV awning. The clips are made of high impact plastic, have rust-proof stainless steel springs and they pivot/swivel! These clips make practical gifts for camper owners and if you combine them with something fun to hang on them (like string lights), they are even better! Check out our Best Camping Lights For Lighting Your Campsite for more lighting gift ideas!💡
&
&
---
Happy Camper Printed Duct Tape
Every RV owner uses duct tape once in a while so why not use a designer looking tape? This totally funky Happy Camper Printed Duct Tape is a high performance strength tape that adheres to a variety of surfaces, including wood, vinyl, plastic, leather, metal and laminate! I've actually witnessed RV owners decide duct tape is the only way to "fix" something after receiving a roll of this stuff as a gift! 😉 LOL
&
---
Storing spices becomes a challenge in a regular home kitchen and because space is limited in RVs, it is an even bigger problem. These Spice Gripper Clip Strips are the perfect solution for that problem! Why not use the wasted space on the back side of a cabinet door to solve RV kitchen organization problems?!? The added benefit of this gadget is the ability to easily see when spices are getting low! These make practical gifts for RV people who love cooking!
&
---
Someday RV designers will create better kitchen cabinets so there is not a ton of wasted space where dishes are stored. Until then, using an Upright Position Plate Holder is a great fix! Making wasted space usable is the way to reduce clutter and easily find items in the small spaces of an RV. To make these a super-cute and more substantial gift for RV owners, add a set of RV camp themed plates!
&
---
This toothbrush holder is one of the cheapest but coolest gifts an RV owner could ever want! The Pop-A-Toothbrush protects toothbrushes from dust and germs and avoids the need to use valuable shelf space in the RV medicine cabinet. It easily fastens to the bathroom wall with double-sided tape and is vented for quick drying.
&
&
---
Keeping the inside of an RV clean is easiest when you keep the dirt out! Using a Wrap Around Step Rug is an easy way to catch dirt prior to entering an RV. It wraps around the existing RV step and is fastened by hooking springs into the holes. It can be used with manual or electric steps, measures 18″ x 17.5″, and adjusts to fit steps with a tread of 8″ to 10.5″.
&
&
---
Cooling an RV refrigerator evenly is not automatic because they typically don't have the best airflow. This RV Fridge Airator is a high-volume air circulator which also absorbs odors! It measures about 4 x 6 x 8 inches so it doesn't take up a ton of space and it operates on batteries. We have more practical food safety gift ideas in our Camping Food Safety Tips Including How To Pack A Cooler For Camping post!
&
&
---
These are seriously cool! Lots of RV owners don't even know these things exist but when they find them, they fall in love! Shifting cargo is always a problem when traveling in an RV but these RV Fridge Braces keep food and beverages from sliding inside the fridge during travel and easily attach to RV refrigerator wire shelves.
&
&
---
Expandable gadgets are SWEET for RVs because storage space is always limited. This Adjustable Broom And Dustpan is perfect for keeping RV interiors clean. The handle length is adjustable! The broom collapses to 24″ for compact storage and extends to 52″ when in use. Yes, you can stand straight up when brooming inside an RV!
&
---
Mudbuster Portable Dog Paw Cleaner
Dog-loving RV owners will be crazy about this Mudbuster Portable Dog Paw Cleaner! Keeping the dog outside the RV just to keep the mud out is not necessary. This little gadget has gentle silicone bristles inside and it works by adding a little water then inserting the dog's paw and twisting a little to wash off the mud. Do that to all 4 paws, pat them dry and let Queen Elizabark (or whatever the dog's name is 😉 LOL) jump in the RV without a mess! They come in 3 sizes to fit small, medium or large paws!
&
---
Parked RVs never feel like home until the flag is flyin' high! Whether you are flying the stars and stripes or your favorite sporting team flag, this RV Flag Pole Kit is a sturdy RV system that mounts to any flat surface and fits most RV ladders. When extended, it can accommodate flags up to 3′ x 5′ and the pole collapses for easy storage too.
&
&
---
Rolling down the highway is fine … rolling at your campsite isn't! Using wheel chocks helps keep your RV trailer and tow vehicle in place while parked. This Pack of 2 Wheel Chocks is designed to be used with tires up to 26″ in diameter.
&
&
---
Looking for a super-practical gift for RV owners? Here it is! This Stabilizer Jack Pad 4-Pack helps prevent jacks from sinking into soft ground. The pads are specifically designed to use with stack jacks, fifth wheel stabilizers, swing down stabilizers and awning arms. Each pad measures 6.5″ x 9″ x 1″, has a built-in handle and the set includes a storage strap.
&
&
---
Leveling Blocks 10-Pack

This Leveling Blocks 10-Pack allows you to level an RV that is parked on an unlevel surface. The interlocking blocks can be used under tires, trailer tongues and swing arm supports. We use ours often when boondocking (aka remote camping or dispersed camping) in areas like National Forests. The blocks are not designed to be used with big rigs; more sophisticated RVs have built-in levelers. Always know your equipment and its limitations.
&
&
---
&
Rosemary Sage Mosquito Repellent Indoor/Outdoor Candle
Gifts for camper owners that do triple duty (like smell good, put off a warm glow and deter bugs) and can be used inside or outside the RV are winners by all measures! This Rosemary Sage Mosquito Repellent Indoor/Outdoor Candle burns for 88 hours and uses no chemicals to ward off bugs … instead, it uses essential oils including lemongrass, citronella, geranium and lemon. For more bug deterring gifts, check out our How To Keep Bugs Away While Camping post.
&
---
MAP AND TRAVEL JOURNALS RV GIFT IDEAS
---
RV Travel Journal: Roam The Roads
Capturing your travels in a journal is a great way to revisit your trips and share them with others. This RV Travel Journal: Roam The Roads includes writing prompts like "The day started like this", "Things I should do today", "Today I feel", "Favorite moment in the day" and more.
&
&
---
Adventures, My Road Trip Journal
Using this Adventures, My Road Trip Journal allows you to keep track of your RV travels in a unique way with specific prompts regarding weather, routing, mileage, cost, sights, highlights, stops and more. This kind if information is super helpful if you want to visit a destination more than one time.
&
&
---
Part of the beauty of RV travel is experiencing the journey (and not just the destination) and tracking your travels … Many RVers use state sticker maps to do that. This Permanent State Sticker Set is unique because each sticker depicts a license plate graphic of each state.  The peel and press vinyl stickers resist water, sun and salt.
&
&
---
Road And Recreation Atlas By National Geographic Maps
If you are a frequent reader of my blog, you already know how much I love my Arizona Benchmark Road And Recreation Atlas for our RV travel planning. National Geographic Maps publishes these for many states and the information includes backcountry roads, trailheads, campgrounds, points of interest, hunting units, RV parks, golf, and boating locations too!
&
&
---
DECOR GIFT IDEAS FOR RV OWNERS
---
Home Is Where The Welcome Mat Is Outdoor Mat
Every RV needs a cool welcome mat! We love this Home Is Where The Welcome Mat Is Outdoor Mat with the fun retro trailer image in the woods! The material is indoor/outdoor carpeting that can be cleaned with a hose and brush. The real gift is keeping the dirt outside your RV! 😉 LOL
&
&
---
Welcome To Our Rolling Estate Camping Sign
Cute signs can be hung at home or in RVs. This colorful Welcome to Our Campsite Plaque measures 5″ x 10″. The funny message is printed on MDF and a rope hanger is included.
&
&
---
Home Is Where You Park It Decorative Throw Pillow Case Cover
Decorative throw pillows are a fun way to add a little whimsical style to any RV. This Home Is Where You Park It Throw Pillow Case Cover is a cotton/linen blend measuring 18″ x 18″ inches and can be used with 18″ x 18″ or 20″ x 20″ pillow inserts. The hidden zipper makes the case easy to remove for machine washing too!
&
&
---
RV Home Is Anyplace I'm With You Terry Towel
This totally cute RV Home Is Anyplace I'm With You Terry Towel features artwork by artist Suzanne Nicoll and measures 16″ x 26″. The 100% cotton material is fast-drying and the towel has a loop for displaying the towel when not in use.
&
&
---
Picture Frame, Horizontal Camper Trailer RV Photo Holder
We love the personal connection time we have with friends and family on camping trips! This Camper Trailer RV Picture Frame is a cute way to frame a photo to be displayed inside an RV! They come in all sorts of models too including 5th Wheels, C Class Motorhomes, A Class Motorhomes and Pop-Ups!
&
---
Garden flags are a popular way to quickly decorate a "temporary yard" for RVs that are always on the go! This Camping Out Garden Flag features the licensed artwork of Suzanne Nicoll and measures 12.5″ x 18″ which fits standard garden flag holders. The design is printed on solar silk fabric that is durable and fade resistant. We have more cool flag gifts for camper owners in our Flag Your Camp With Cool Camping Spinners And RV Flags post!
&
&
---
Birdhouses and feeders attract wild birds and are a fun addition to any RV campsite! This RV Camper Birdhouse has an adorably quirky design with a "trailer for sale or rent" notice hanging on a camper reminiscent of the old classic Airstreams. It is made of resin, measures 8.5″L x 4.5″W x 5″H and includes a wire for hanging too!
&
&
---
Using string lights is a popular way to light up campsites. You can find them in all sorts of designs now and we just love the idea of mini RVs lighting up the real thing! The Motorhome Party String Lights and Retro Travel Trailer Party String Lights are UL approved for indoor and outdoor use. Each 120V with overload protection is an 8′ strand that contains ten lights. Each set includes two spare bulbs and a spare fuse. Don't you think they make cute gifts for camper owners?!?! 😍
&
Motorhome Party String Lights
Retro Travel Trailer Party String Lights
&
---
 KITCHEN AND BARWARE RV GIFT IDEAS
---
Cookie jar collectors and RV owners will love this gift idea! This Ceramic Camper Cookie Jar is sooooo cute with the retro camper packed with luggage on top and a message that "Happy Campers Eat Cookies" … which we all know is true! The ceramic jar measures 9.5″ x 5.75″ x 7.5″.
&
&
---
Wine Glass Holder For Camp Chairs
This is one of those, "Why didn't I think of that?" inventions! This Wine Glass Holder For Camp Chairs is one of those perfect gift ideas RV owners who also love wine will be absolutely crazy about! This little gizmo attaches to the arm rest of most camp chairs by its sturdy Velcro strap. The stainless steel board is covered with foam padding and cotton which is weather and stain resistant. It holds most plastic or glass stem glasses.
&
&
---
Using colorful dishes with retro RV camp scenes is a fun way to eat your camp culinary creations! The Camp Casual 12-Piece Dish Set includes a setup for 4 with dinner plates, salad plates and bowls that come in a reusable box with a handle. The BPA-free heavyweight melamine material should not be used in a microwave but it is safe for top-shelf dishwasher cleaning.
&
---
Camp Casual Bowl And Serving Set
Classically retro camper serving utensils bring a whimsical feel to your campsite dinner table! This Camp Casual Bowl And Serving Set has the cutest pattern ever! The pattern of retro campers, trucks, cars and gasoline pumps is included on the bowl and the two serving utensils. The BPA-free heavyweight melamine material should not be used in a microwave but it is safe for top-shelf dishwasher cleaning.
&
&
---
Teardrop Camper Salt And Pepper Shakers
Adding salt and pepper to food gives it flavor, doing it with these Teardrop Camper Salt And Pepper Shakers does it in style! This adorable set is made of hand painted ceramic and the shakers measure 3 x 1.75 inches. With such a fun design, these make adorable gifts for camper owners who like to season their food and leave the S&P on the counter for a cute decorative touch.
&
&
---
Every camper we know loves a good cup of camp coffee to get the morning started! Why not sip your java from a Happy Camper Mug designed to resemble a camper with windows, pink flamingo and propane tank?!?! The mug holds approximately 12 ounces and hand-washing is recommended.
&
&
---
Oooooo, aaaaah … Just picture sitting around a campfire enjoying a creamy hot chocolate from this Starry Night Coffee Mug with the retro campers scene! The Camp Casual line of mugs features different colors and designs which are 15 oz. sturdy ceramic mugs that are both dishwasher and microwave safe.
&
---
Life Is Better In A Camper Mug
There are so many cute coffee mugs for RV owners! These Life Is Better In A Camper Mugs are really popular this year and I can totally see why! A set of these will make coffee-drinking RV owners agree … life is better in a camper! They make great gifts for camper owners who like to start their day with a little java jolt! ☕☕
&
---
Vintage Trailers II Set of 4 Coasters
Hands-down … the best way to deal with  sweating drinks is by using totally adorable retro RV coasters! This Vintage Trailers II Set of 4 Coasters is made from absorbent stone with a cork back to protect furniture. The set features Paige Bridges licensed artwork and comes in a printed box.
&
&
---
Camp, Hike, Cook, Drink, Eat, Repeat Stainless Steel Cocktail Shaker Gift Set
Shaking a cocktail at the campsite couldn't be more cool! This Camp, Hike, Cook, Drink, Eat, Repeat Stainless Steel Cocktail Shaker Gift Set includes a sleek brushed stainless steel strainer-topped shaker, muddler and two-sided jigger all in a ready-to-give decorative box. This is just one of the things we take on our glamping trips! We have more adorable gifts for camper owners in our Cute Glamping Accessories And DIY Glam Camping Ideas And Tips post!
&
&
---
Camp, Hike, Cook, Drink, Eat, Repeat Flexible Cutting Mat Set
Chopping veggies and camp meal prep just got way more fun! This Camp, Hike, Cook, Drink, Eat, Repeat Flexible Cutting Mat Set has the cutest design with a retro RV camper next to a dutch oven cooking over a campfire! The mat set includes 3 different sized mats for various tasks and include holes for hanging on hooks when not in use. These mats make great gifts for camper owners who like to cook!
&
&
---
3-in-1 Folding Camping BBQ Tools
Cooking inside the RV or outside over the campfire, this 3-in-1 Folding Camping BBQ Tools is one of those great multi-tool space-saving gifts for camper owners! You'll find more gift ideas in our Campfire Cooking Equipment You Can't Live Without post!
&
---
FUN ENTERTAINMENT GIFT IDEAS FOR RV OWNERS
---
&
I'm Unplugging Hammock With Attached Carrying And Accessory Bag
Relaxing is what RVing is all about! This I'm Unplugging Hammock With Attached Carrying And Accessory Bag is awesome because it keeps your beverages, sun glasses and reading material within easy reach while you are lounging in the great outdoors. When you're finished, just roll it up and pull the string because the bag doubles as a carry bag too!
&
&
---
Camping in an RV means you can set-up home almost anywhere … an awesome adventure! That also means you may not have campfire rings at every location and that is when this Portable Campfire Ring saves the day! The steel ring accommodates natural wood-burning fires and the tree cut-outs create a cool look when the fire glows behind them. When in use, the ring measures 27 inches wide; it easily folds and packs inside the included storage bag too.
&
&
---
Toasted Or Roasted Card Game Set
Kid-friendly games are part of the camping experience for many RV owners. This Toasted Or Roasted Card Game Set can be played with 2-6 players over the age of 6. The object: be the first player to start your campfire and toast three marshmallows but don't forget to play defensively because "Roasty" will try to burn your marshmallows. We have more fun game gift ideas in our Camp Games: Prove You Are A Super Hero Camper post!
&
&
---
Trailer Life Magazine Subscription
Magazine subscriptions are great gifts that continue giving throughout the year! A Trailer Life Magazine brings a wide variety of information to readers including trips, destinations, RV maintenance/repair, purchasing travel trailers and trucks and more.
&
&
---
MotorHome Magazine Subscription
Giving a subscription to MotorHome Magazine is a great gift for current owners or people thinking about purchasing a motorhome. Readers will enjoy reviews of campgrounds and new motorhome models for all classes and price ranges. There is practical information covering things like towing and mechanical features too.
&
&
---
The Most Scenic Drives In America: 120 Spectacular Road Trips
Part of the fun of owning an RV is taking your home-away-from-home on a road trip with jaw-dropping scenery. That's why we always say, you've got to enjoy the journey … not just the destination. The Most Scenic Drives In America: 120 Spectacular Road Trips book is a great gift for RV owners who travel a lot or those who only get to travel occasionally but want inspiration to make those special occasions totally magnificent! We have more gift ideas in our RV Camping Road Trip Ideas With Unusual Roadside Attractions post!
&
---
Coloring books have always been fun for kids but now they are popular stress-relievers with adults! This  Happy Campers Coloring Book celebrates the good life on the open road with 30 vibrantly detailed art activities. The quirky illustrations can be colored using markers, colored pencils, gel pens, or watercolors.
&
&
---
Using organizers inside an RV helps to keep small spaces clutter-free and manageable. This Gearbox Bedside Caddy has multiple pockets allowing for streamlined storage of lightweight items like books, glasses and tissues. We have more totally practical ideas for gifts for camper owners in our RVing Tips For Beginners: Enjoying The Maiden Journey post.
&
&
---
ELECTRONIC GADGET RV GIFT IDEAS
---
Kindle Paperwhite E-Reader

Avoiding the space and weight required to carry books in your RV is simple when you use an electronic reading device. This Kindle Paperwhite E-Reader has a higher resolution display (300 ppi) and a built-in adjustable light to read in daylight or at night. Even in bright sunlight, there is no screen glare! A single battery charge lasts weeks!
&
&
---
4Ucam Digital Wireless RV Backup Camera System
Every RV owner needs an extra set of eyes when backing up the rig … unless they have a backup camera system! This 4Ucam Digital Wireless RV Backup Camera System doesn't have a complex wire layout between the monitor and IR LED night-vision waterproof camera because it is a WIRELESS system! Both units need power, the monitor is powered by your cigarette lighter and the camera is powered by a 12-24 volt source of your vehicle's electrical system.
&
---
Garmin RV 760LMT Portable GPS Navigator
Navigating a travel route in an RV couldn't be easier! This Garmin RV 760LMT Portable GPS Navigator has a 7″ high-resolution touchscreen display and provides RV-specific services. You can customize routes based on restrictions including height, weight, width and length. With voice-activated navigation, you just have to talk to it!
&
&
---
DOSS Touch Wireless Bluetooth V4.0 Portable Speaker
Great-sounding tunes are easy at your RV destination, both indoors and out! This DOSS Touch Wireless Bluetooth V4.0 Portable Speaker has 12 watts of superior sound quality. It packs a pretty mean punch for its size and price. It has enhanced bass and dual high-performance drivers. The built-in rechargeable battery provides up to 12 hours of playtime and it recharges in 3-4 hours with the micro USB cable which is included. You can even answer phone calls with it through its built-in microphone!
&
&
---
Some of the coolest gifts for camper owners include off-the-grid camping gadgets that make it possible to use electronic devices without electricity. The Goal Zero Torch is one of those astoundingly awesome gizmos that has a built-in solar panel and USB port so you can charge your phone and use it as a flashlight, floodlight or red emergency light … all from the power of the sun or using its hand-crank! You can find more unique gift ideas in our How To Charge Your Phone Without Electricity While Camping post!
Goal Zero Solar Flashlight And Phone Charger
Integrated Solar Panel And USB Port
&
---
WEARABLE GIFT IDEAS RV OWNERS LOVE
---
This funny graphic and message 'Every Camper Knows…If Your Shoes Are Smokin' Back Away From The Campfire' Apron has three pouch pockets plus a thermometer-pen pocket, waist ties and 1-inch wide neck with adjustable strap.
&
---
Crazy socks are always a fun gift! These fashion socks by Foot Traffic include designs featuring RV trailers, tents, campfires, trees and marshmallows on sticks ready for roasting! They come in sizes for Men and Women. We have more fun gifts for camper owners who camp as couples in our Camping Gifts Couples Will Love post!
&
Foot Traffic Men's Camping Socks
Foot Traffic Camping Women's Socks
&
&
---
Need More Camping Gift Ideas? Check Out These Posts!
---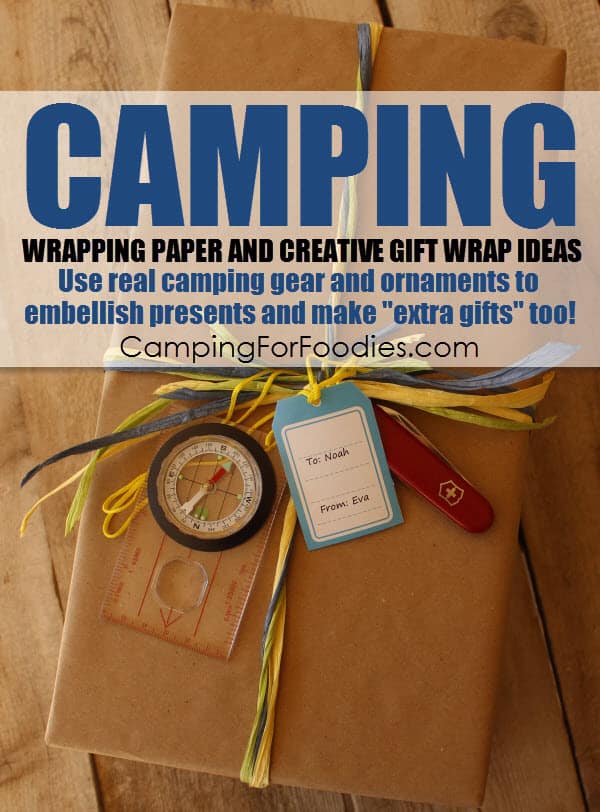 Get Fun Camping Wrapping Paper And Creative Gift Wrap Ideas here!
&
---
No time to look for recipes, create a menu and write a grocery list? No Problem! Get our 3-Day Dutch Oven Camp Menu Plan here!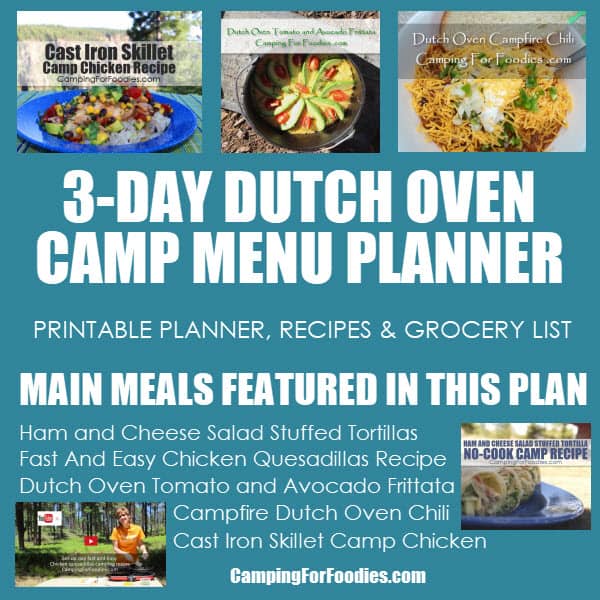 ---
Our Cool Camping Products Make Great Gifts!
Tote
Cutting Mat
Mat Set
Shaker Set
Apron
Hammock
Women's Tee
&
---
If you need camping recipes and menu ideas, you can find them here at the Camping For Foodies Camping Recipes list.
Don't miss a thing…sign up for Camping For Foodies email updates!
Your purchase of our products will help support World Vision ® Building a better world for children.