New Mexican Huevos Rancheros Recipe: The perfect breakfast
This is one of my favorite Mexican breakfasts to serve in the morning. My New Mexican Huevos Rancheros Recipe is perfect for outdoor cooking and is one of my camping breakfast ideas you should try the next time you make a morning meal at camp.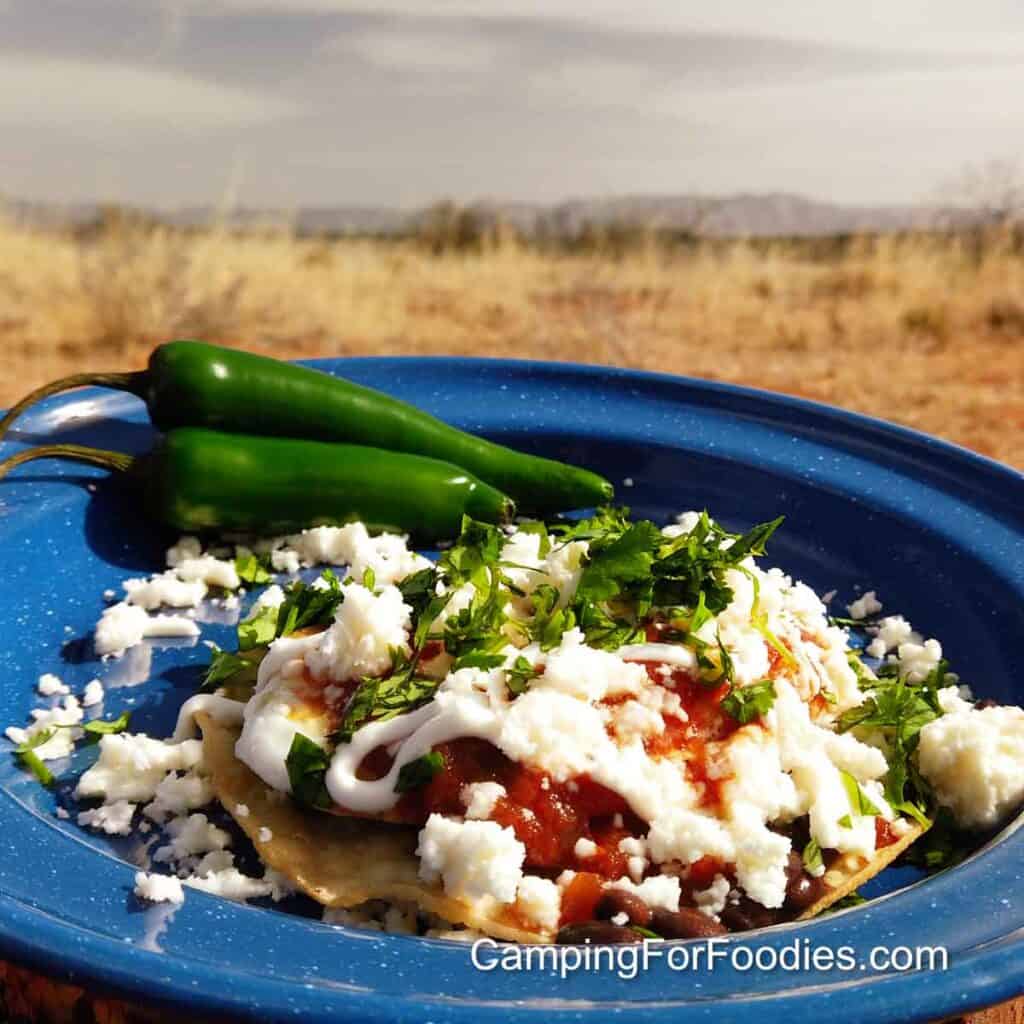 Psst we're compensated…see our disclosures.
How I've Made It Easy
This classic Mexican breakfast is commonly served on Mexican farms. The dish's name, rancher's eggs (huevos = eggs and rancheros = rancher or ranchman) is typically a simple but hearty breakfast featuring a fried egg on a corn tortilla and topped with warmed salsa.
An authentic Mexican recipe usually starts with a homemade New Mexico red chile sauce that combines tomatoes, white onion and garlic in a food processor or blender to make a smooth tomato sauce. Flavors are added by stirring in spices like cumin, red chile powder and oregano.
A typical breakfast at camp doesn't include ingredients requiring the use of electric appliances. So, to make this easy huevos rancheros recipe at the campsite, I'm using a prepare picante sauce. I love homemade corn tortillas but I'm using a store-bought prepared soft corn tortilla to keep it simple.
---
Recipe Prep
One of the great things about this breakfast is that no chopping is required! You'll just need to get your ingredients and cooking equipment ready.
Camp Cooking Tip: I like making all of the components of ranch-style eggs at the same time so I use 4 pans and serve directly out of them. Traditionally, the tortillas are fried in about one inch canola oil then removed. The ranch eggs are fried directly in that oil. I prefer cooking the eggs in butter so I use a separate pan.
---
Cooking Methods & Equipment
If you have a 2-burner stove and you want to make this as one of your camp stove recipes, you'll be heating the beans and frying the tortillas first, then warming the sauce and frying the eggs last.
If you have a large enough grate and you want to make this as one of your campfire recipes, you can have all of the elements of this dish cooking at the same time.
---
Recipe Steps
Step 1. Prepare your ingredients, heat source and equipment as directed.
Step 2. Heat the beans. Place a large saucepan over medium heat to warm the beans.
Step 3. Heat the sauce. Pour picante sauce in a medium saucepan and cook till warm over medium low heat.
Step 4. Fry the tortillas. In a small skillet, heat oil over medium-high heat and fry tortillas. Remove from pan, let drain on paper towels. Set aside and keep warm.
Note: This is a great gluten free camping food option that uses corn tortillas. If you substitute a different type of tortilla, you may be adding gluten to this dish.
Camp Cooking Tip: Use a cast iron skillet or Dutch oven when frying. It's a great way to keep your equipment well-seasoned and in good condition.
Step 5. Fry the eggs. Melt butter in a frying pan, crack eggs into pan and season with salt and pepper.
Camp Cooking Tip: Traditionally this dish is served with sunny-side-up eggs with runny yolks. But, cook them to your likeness. You can even do a version with egg whites without without yolks if that's your preference.
Step 6. Assemble the dish. Layer the ingredients in this order: tortilla, beans, egg and warm salsa. Add optional toppings, if desired.
---
Substitutions
Corn tortillas are smaller than other types of tortillas. If you substitute a different type, make sure you are using the street taco size.
---
What To Serve With This Recipe
This dish is an entire meal on its own so you really only need to add a beverage on the side. I like serving a small cup of coffee. Here's tips on how to make coffee when camping.
If you have meat eaters in your group, you may want to serve a side of bacon or breakfast sausage with this meal. Bottom line is, you've gotta keep your campers happy!
Get your FREE printable camping trip & menu planner before you create your next meal plan!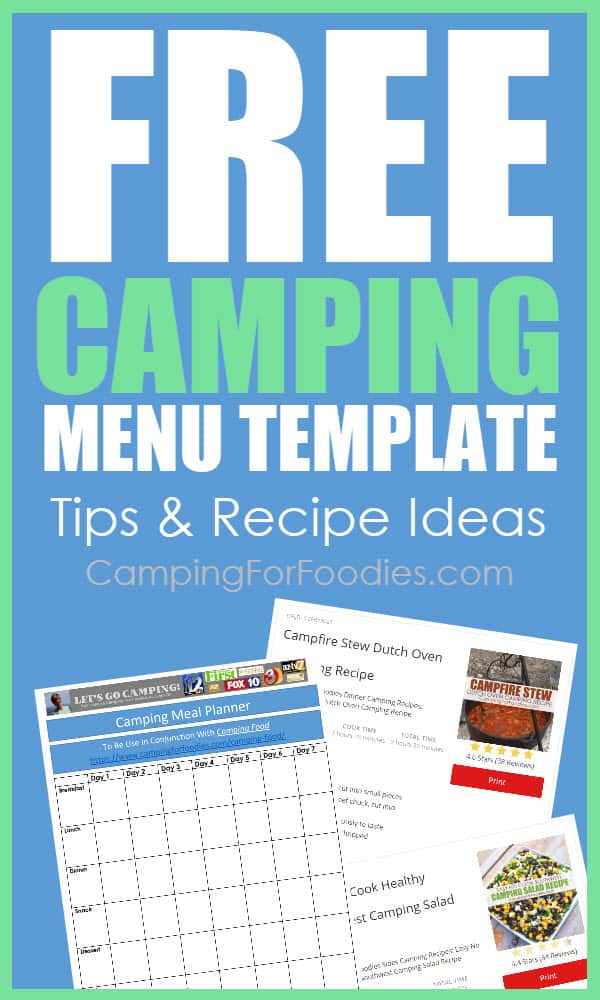 ---
Scaling Servings
For serving larger groups of people, you'll want to start an assembly line. It's easy to keep the beans and sauce warm but you'll have to keep doing the tortillas and eggs as you serve people.
---
Print This Recipe
New Mexican Huevos Rancheros Recipe
Camping For Foodies Breakfast Camping Recipes: This is one of my favorite Mexican breakfasts. It is perfect for outdoor campsite cooking.
Ingredients
4

eggs

4

tablespoons

butter

Salt and pepper

to taste

1

(15 oz)

can black beans (can substitute refried beans or pinto beans)

1

(16 oz)

jar picante tomato salsa (if you prefer green over red, substitute salsa verde or green chile sauce)

4

soft corn tortillas

if you prefer white over yellow, substitute small flour tortillas

1

cup

vegetable oil

canola oil or olive oil
Optional topping suggestions:
Cotija cheese, cheddar cheese or queso fresco

Fresh salsa, diced tomatoes or pico de gallo

Guacamole or avocado slices tossed in lime juice

Green chilies, jalapeno or serrano peppers

Sour cream

Green onions

Cilantro
Instructions
In a large saucepan, heat the beans over medium heat.

In a medium saucepan, warm the picante sauce over medium low heat.

Fry tortillas. Heat oil in a small skillet over medium-high heat and fry tortillas until they are lightly crispy. Remove from pan and let drain on plate lined with paper towels. Set warm tortillas aside, cover plate to keep warm. (see * Note)

In a frying pan, melt butter and fry the eggs, season with salt and pepper. (see ** Note + see *** Note)

Assemble the dish by layering ingredients in this order:

Place tortillas on individual serving plates

Divide beans spreading them over the top of the tortillas

Place eggs over beans.

Spoon warm salsa mixture over eggs.

Top with hot sauce and optional toppings, if desired. (see **** Note)
Notes
*NOTE: Use tongs to gently place tortillas into the hot oil. Fry them one at a time, about 20 seconds per side, you're looking for a slightly crispy yet pliable texture, not hard crunchy texture like tortilla chips.
**NOTE: If you want to cook all of the eggs at the same time, use a large skillet but I find it easier to cook the eggs 1 serving at a time in a small pan.
***NOTE: Traditional huevos rancheros are served with sunny side up fried eggs that have runny yolks. If you don't like runny egg yolks, just cook them your favorite ways, scrambled or over easy eggs are fine, you just won't have the creamy consistency you get when the runny yolk mixes with the warm salsa.
****Note: An authentic huevos rancheros recipe consists of tortillas, ranchero sauce, refried beans and fried eggs. If you like to jazz up your Mexican food with different versions, try some optional toppings.
Here are a few more useful links:
Dutch Oven Temperature Chart
https://www.campingforfoodies.com/dutch-oven-temperature-chart/
Camping For Foodies Recipes List
https://www.campingforfoodies.com/camping-recipes-list/
Nutrition Information
Serving:
1
g
Calories:
702
kcal
Carbohydrates:
12
g
Protein:
7
g
Fat:
71
g
Saturated Fat:
17
g
Polyunsaturated Fat:
33
g
Monounsaturated Fat:
17
g
Trans Fat:
1
g
Cholesterol:
194
mg
Sodium:
166
mg
Potassium:
114
mg
Fiber:
2
g
Sugar:
1
g
Vitamin A:
589
IU
Vitamin C:
1
mg
Calcium:
49
mg
Iron:
1
mg
---
Similar Recipes
Chorizo sausage provides the Mexican flavors to this meal. Add tortillas, eggs, cheddar cheese and top with sour cream and cilantro for a fabulous morning meal.
The combination of bacon and avocado makes this a popular morning meal. Jalapeno peppers, onion, eggs and cheese are rolled into spinach wraps.
Most cookbooks featuring Dutch oven camping recipes include some type of Mountain Man casserole. We make ours with a nod to Santa Fe by including green chilies and serve serrano chile peppers on the side for those who love spicy food.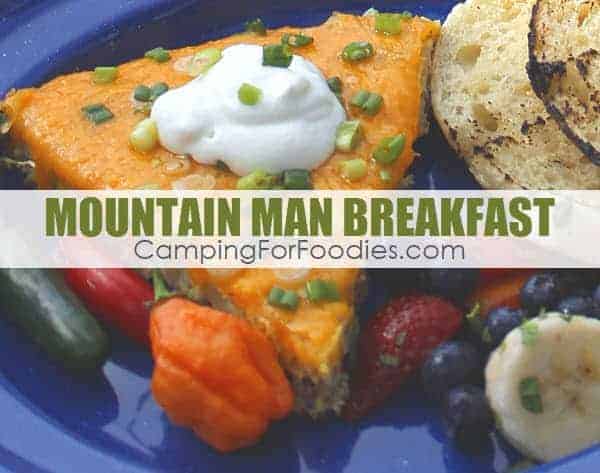 Combine chorizo, eggs, cheese, cilantro and sour cream then wrap in a tortilla for a hearty hand-held feast.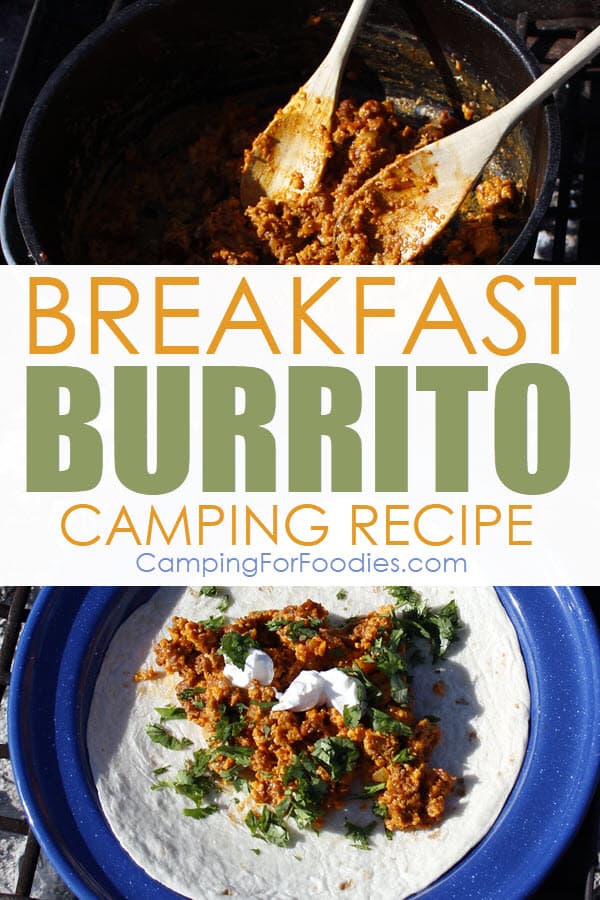 Try this frittata that has fresh flavors that come from the avocado, tomato and fresh basil.
These New Mexico huevos rancheros are a great thing to serve when camping on Cinco de Mayo. If you want another breakfast with Mexican influences, try this casserole.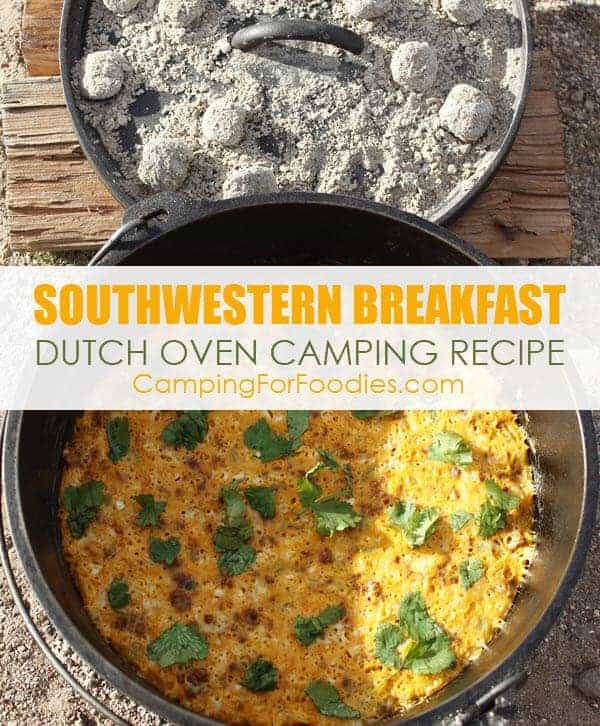 If you're looking for more vegetarian camping recipes, try these breakfast bowls that skip the tortilla.
Loaded breakfast nachos are a hit with kids and adults!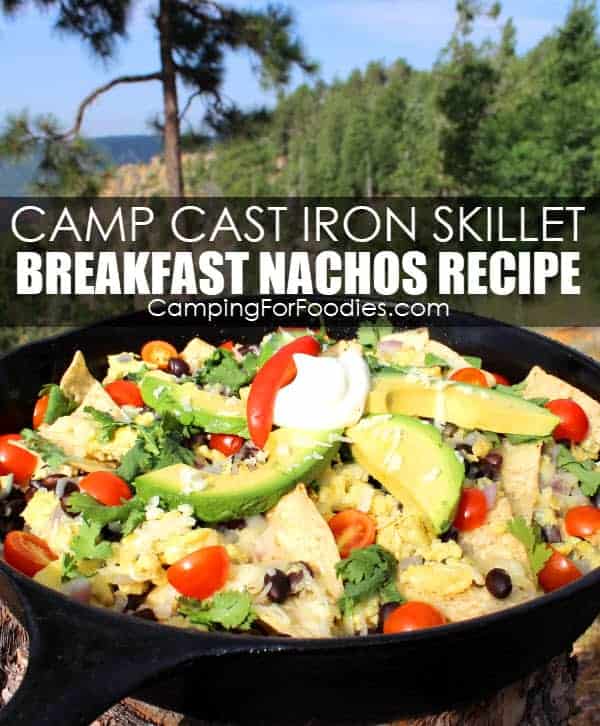 Bake your eggs in an avocado and you get a creamy satisfying meal with no dishes to clean afterwards!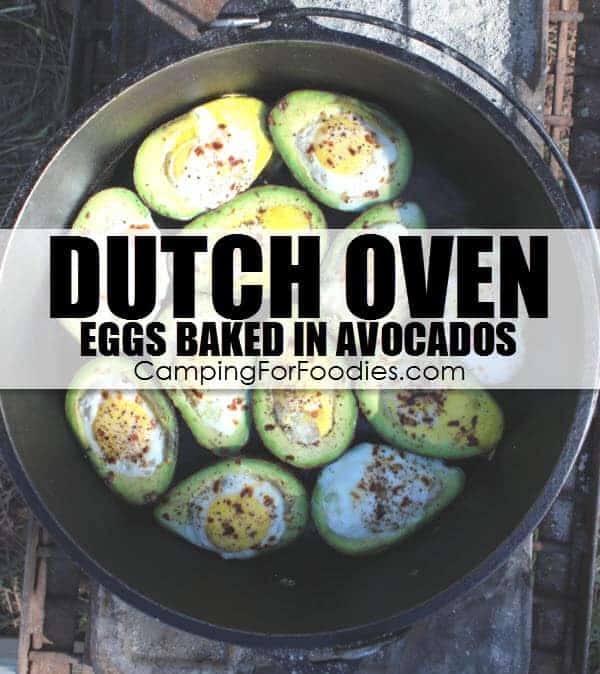 You don't have to be on the West Coast to enjoy this breakfast burrito.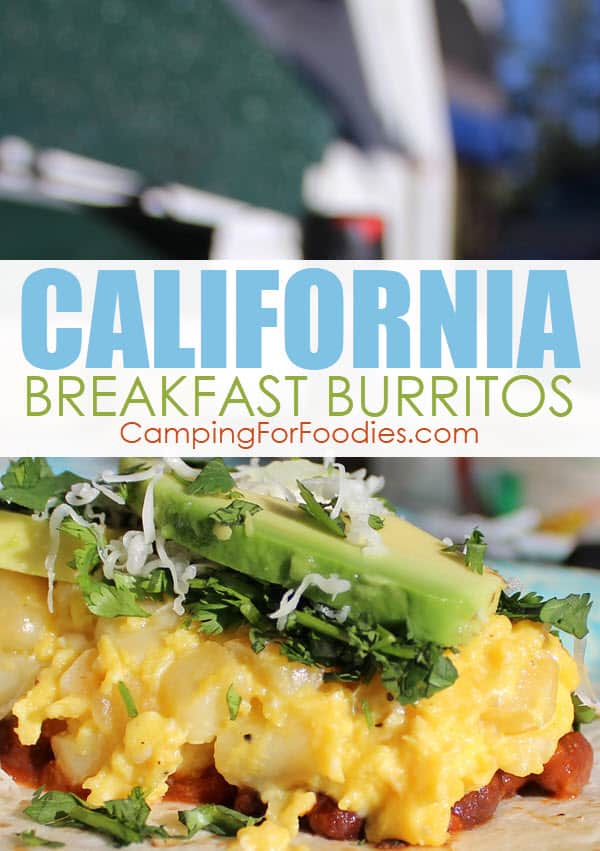 ---
More Yummy Meal Ideas
There's a first time for everything. The first thing you need to do is find some new recipe ideas for your next trip!