Dutch Oven Mexican Chicken: Easy One Pot Chicken & Rice Meal
This Dutch Oven Mexican Chicken is full of bold flavors baked into a one pot meal of chicken and rice. It's one of our yummy Dutch oven camping recipes you'll want to try on your camp dinner menu!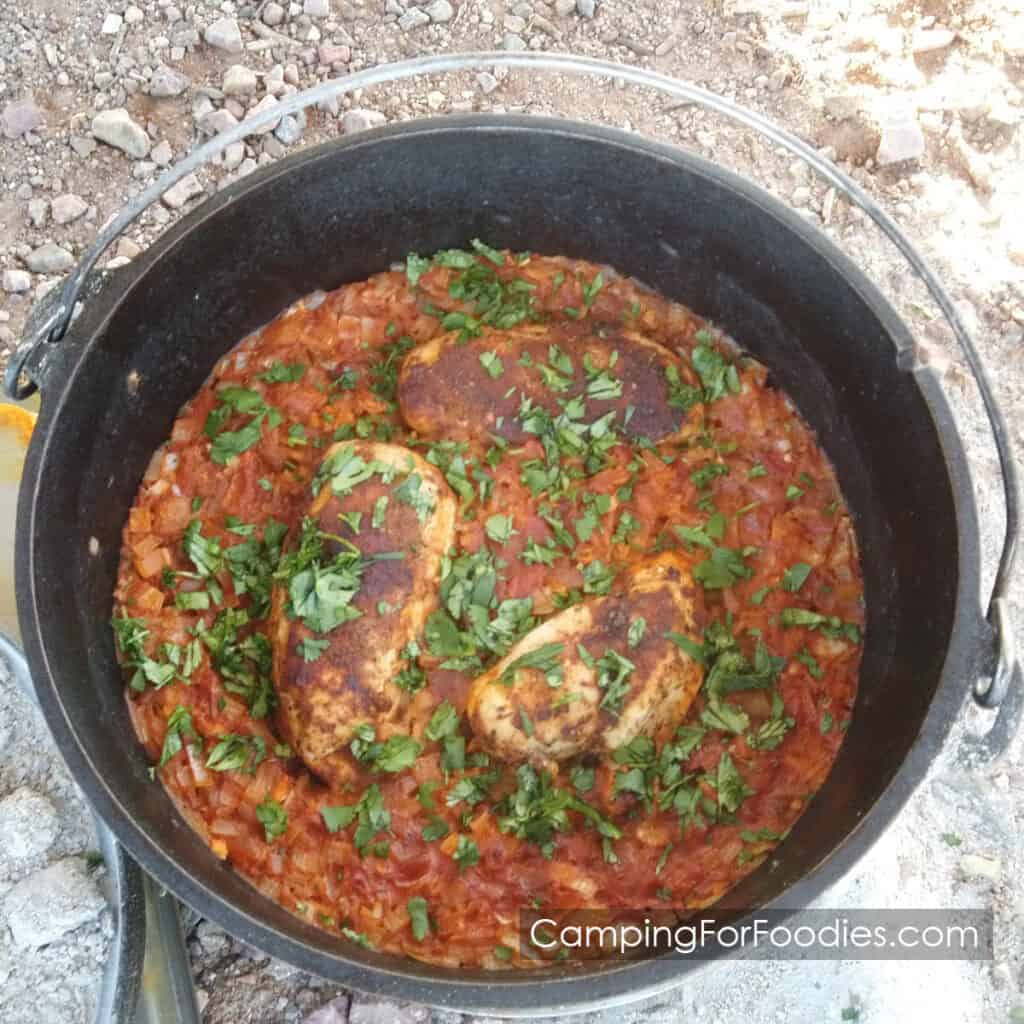 Psst we're compensated…see our disclosures.
Recipe Prep
When you are preparing meals that require quite a few spices, it's easiest to measure and mix those ingredients at home. For this recipe you can combine the chili powder, ground cumin, dried oregano, coriander, salt and pepper in a small food storage container and transport to the campsite for an easy "dump and cook" process.
You'll also need to chop a bit of onion, garlic and cilantro, if desired.
---
Cooking Methods & Equipment
If you are making this as one of our easy campfire recipes, you'll need to get your fire going so you'll produce nice coals from hardwood for about 50 minutes of cooking time. Charcoal briquettes are fine too.
If you're making as one of our camp stove recipes, you'll need to prepare for baking at 350 degrees F so you'll need a Dutch oven dome and heat diffuser plate.
Dutch Oven Dome & Heat Diffuser Plate
---
Recipe Steps
Step 1. Prepare your ingredients, heat source and equipment as directed.
For baking at an oven temperature of 350 F degrees, you will need 25 total coals = 17 on top of the lid / 8 beneath the bottom of the oven if you are using a 12-inch Dutch oven.
If you are using a different oven size, check our Dutch oven temperature chart to see how many coals you'll need.
Step 2. Season the chicken. Mix the chili powder, ground cumin, dried oregano, coriander, salt and pepper then sprinkle on both sides of the chicken breasts.
Step 3. Sear the chicken. Use medium-high heat below the oven, heat oil then place the chicken in the bottom of the pot to sear on all sides. Remove the chicken from the pot.
Step 4. Soften onion and garlic. Add more oil, stir in onions and let soften. Add garlic and stir.
Step 5. Add rice and liquids. Add the uncooked rice, salsa and chicken broth to the pot. Cover to bring to boil.
Step 6. Add chicken back and bake. Return the chicken to the pot, cover and bake at 350 F degrees leave 8 coals below oven and move 17 coals to the top of the lid. Bake until the chicken is cooked through.
Step 7. Garnish and serve. Serve hot and top with cilantro, if desired.
---
What To Serve With This Recipe
This Sweet Onion Salsa Recipe is amazing!!! It's one of the best camping snacks to serve with a Mexican main course.
Fresh avocados are tossed in a bit of lime juice, then combined with tomato, jalapeno pepper, garlic, onion and cilantro to make this Fresh Guacamole Appetizer that is served with tortilla chips. If you have any leftover, add a scoop on the side with your chicken.
If you want a heavy appetizer, try these Dutch Oven Nachos … they are loaded … and … meatless! This is one of my favorite vegetarian camping recipes!
Try this Mexican Three Bean Salad. You'll already have the rice to serve on the side with this chicken recipe. But, if you want an additional option one of our salads that uses all shelf-stable ingredients. It is one of our camping food ideas no refrigeration required.
Looking for other camping side dishes? We've got lots of ideas for you!
---
Leftovers
When I'm making camping meals for two, I don't reduce the number of servings, I plan to use the leftovers to avoid cooking another meal!
You can cube or shred chicken to quickly prepare easy camping lunches like this Chicken Parmesan Wrap.
Here are more ideas for no cook camping meals.
You can also use leftover chicken in one pot camping meals that call for cooked chicken like this One Pot Creamy Cajun Chicken Camping Pasta.
Get your FREE printable camping trip & menu planner before you create your next meal plan!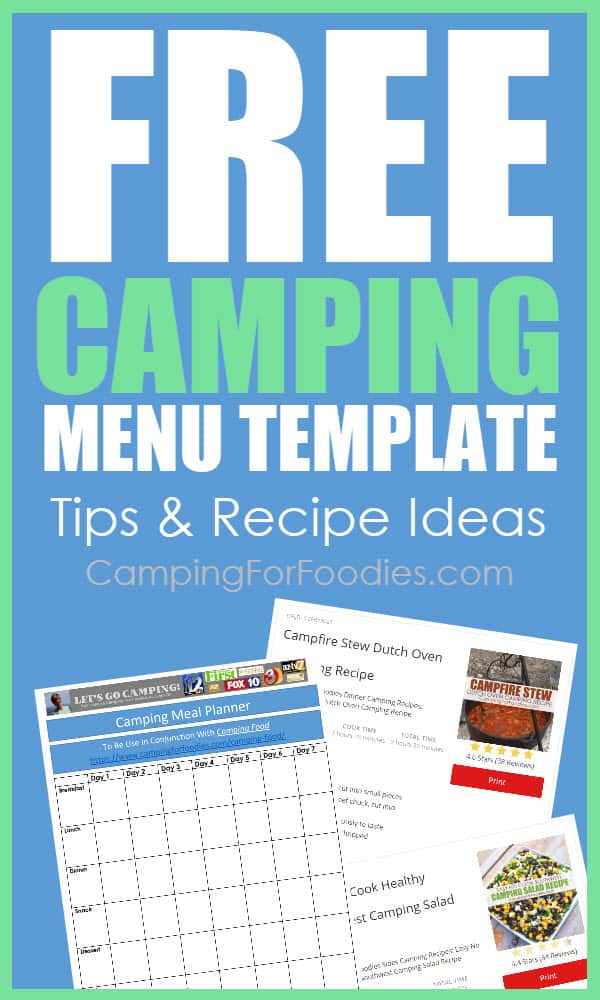 ---
Print This Recipe
Dutch Oven Mexican Chicken
Camping For Foodies Dinner Camping Recipes: This Dutch Oven Mexican Chicken is full of bold flavors baked into a one pot meal of chicken and rice.
Ingredients
2

pounds

boneless skinless chicken breasts

about 3-4 half breasts

1

teaspoon

chili powder*

1

teaspoon

ground cumin*

1

teaspoon

dried oregano*

1

teaspoon

coriander*

Salt and pepper

to taste*

2

tablespoons

olive oil

divided

1

onion

diced

2

garlic cloves

minced

1

cup

white rice

uncooked

1

(14 oz)

can chicken broth

1

(15 oz)

jar prepared salsa

1

bunch cilantro

chopped, optional for serving
Instructions
Ingredients marked with * can be measured and mixed at home.

Prepare coals for baking at 350 F degrees (25 coals total = 17 top/8 bottom) if using a standard-depth 12-inch Dutch oven. NOTE: Depending on your cooking conditions, you may need two batches of coals to complete the cooking of this recipe.

Season chicken on all sides, sprinkle with the mixed spices: chili powder, ground cumin, dried oregano, coriander, salt and pepper.

Place Dutch oven over medium-high heat (using all coals below the oven) to sear the chicken. Add 1 tablespoon olive oil to pot and let it get hot, then place the chicken in the bottom of the pot.

Let the chicken form a crispy texture with a golden-brown color, about 5 minutes. Then, flip the chicken to brown the second side, about 5 more minutes.

Remove browned chicken to a plate and set aside.

Continue with a medium-high heat and add the remaining 1 tablespoon olive oil and the onions to the pot.

When the onions are softened, stir in the garlic.

As soon as the garlic is fragrant, stir in the uncooked rice, salsa and chicken broth. Cover and bring the mixture up to a boil then return the chicken to the pot.

Cover with tight-fitting lid and place coals under the oven (8 below) and on top of the lid (17 on top) to bake at 350 F degrees until the chicken reaches an internal temperature of 165 degrees F, about 40-50 minutes. Rotate the oven and lid in opposite directions every 15 minutes for even baking.

Serve chicken over rice and top with cilantro, if desired.
Nutrition Information
Serving:
1
g
Calories:
507
kcal
Carbohydrates:
41
g
Protein:
52
g
Fat:
13
g
Saturated Fat:
2
g
Polyunsaturated Fat:
2
g
Monounsaturated Fat:
7
g
Trans Fat:
1
g
Cholesterol:
145
mg
Sodium:
279
mg
Potassium:
967
mg
Fiber:
2
g
Sugar:
1
g
Vitamin A:
268
IU
Vitamin C:
5
mg
Calcium:
48
mg
Iron:
2
mg
---
Similar Recipes
We have a bunch of Dutch oven Mexican recipes for breakfast, lunch and dinner meals.
So, if you like Mexican-flavored camping dinner recipes, try these too.
These Creamy Tacos are an easy, tasty & fun one-pot camping meal
This recipe combines shredded chicken, canned enchilada sauce, onion and cheese that is rolled into tortillas then baked. Top with fresh cilantro and sour cream for a restaurant-quality meal.
We have so many easy camping meals, it's hard to pick a favorite! These tacos take 5 minutes to prep and 15 minutes to cook. That's faster than many instant pot recipes!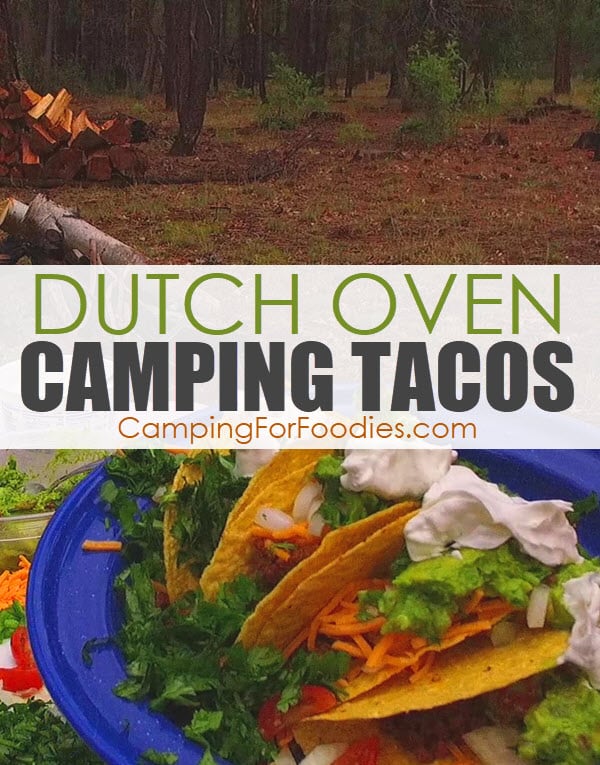 If the like the combination of chicken and rice but want a different flavor profile, try this one. Chicken breasts are cubed and cooked with garlic, peas and carrots. Then jasmine rice is cooked in chicken broth. Stir in a bit of cream cheese for a classic country meal.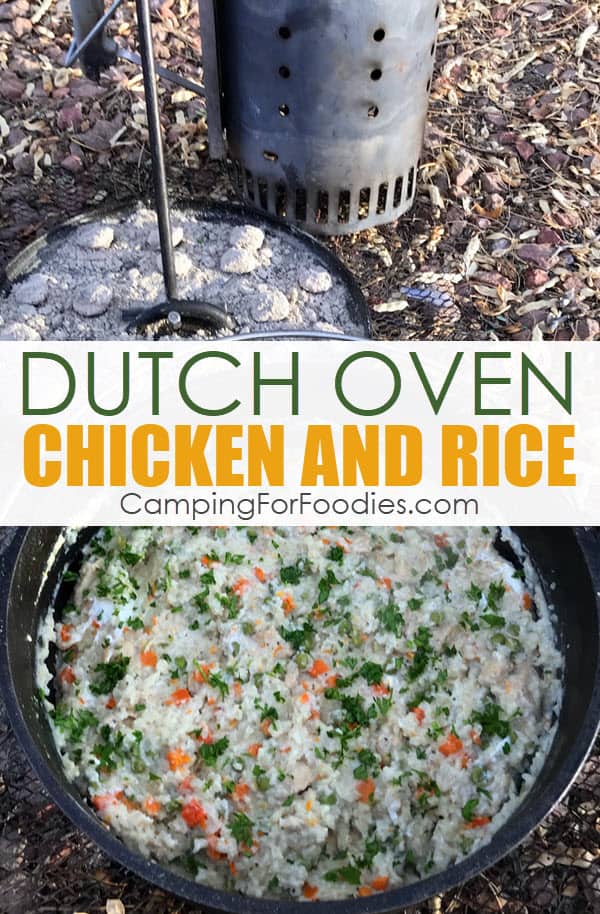 Don't you think winter camping recipes should warm you from the inside out?
This pot pie is made simple with an upper-crust made from refrigerated biscuit dough.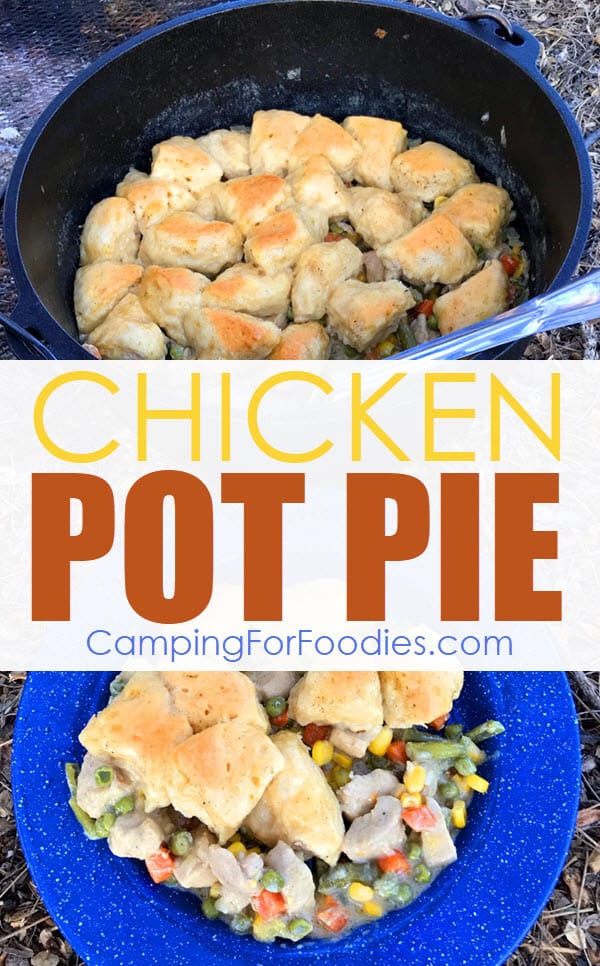 Bacon is the beginning of this tasty dish. Add chicken, kosher salt, pepper, onion, garlic and chicken broth to create the simmer liquid. Then add red potatoes, carrots and cook on your stove-top or over campfire coals … yum!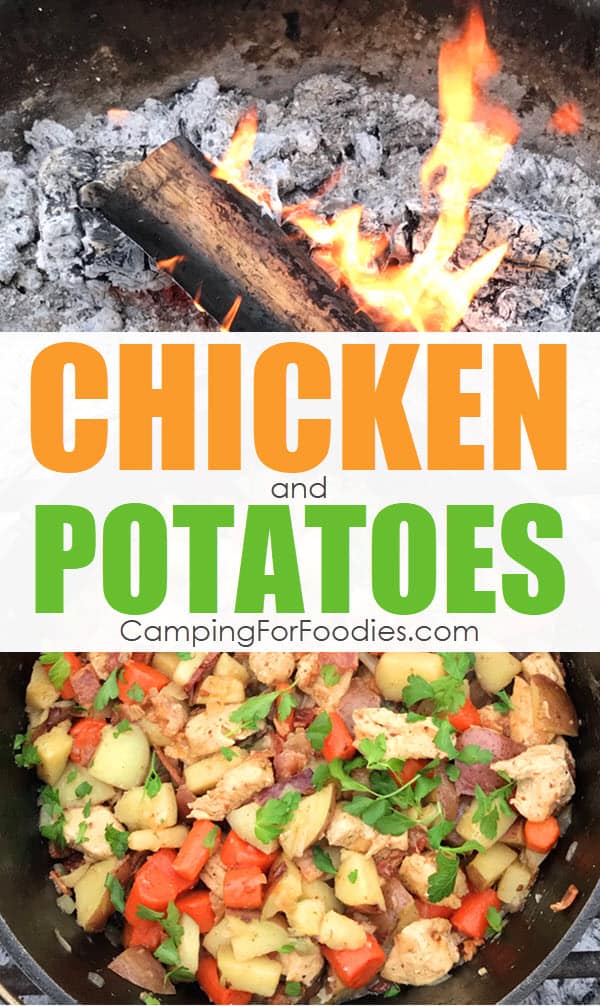 Crisp the skin of chicken thighs in olive oil then combine petite potatoes, garlic, onion, fresh rosemary and lemon in a cast iron skillet or camp Dutch oven to create this delicious gluten free camping food recipe.
Can you guess what is one of the most popular camping breakfast ideas? If you guessed "burritos", you are right!
I like making these burritos over a morning campfire. The chorizo sausage provides a ton of flavor without a ton of work. Add in some eggs and cheese, then top with sour cream and cilantro … roll up in a tortilla and enjoy with a hot cup of coffee or OJ.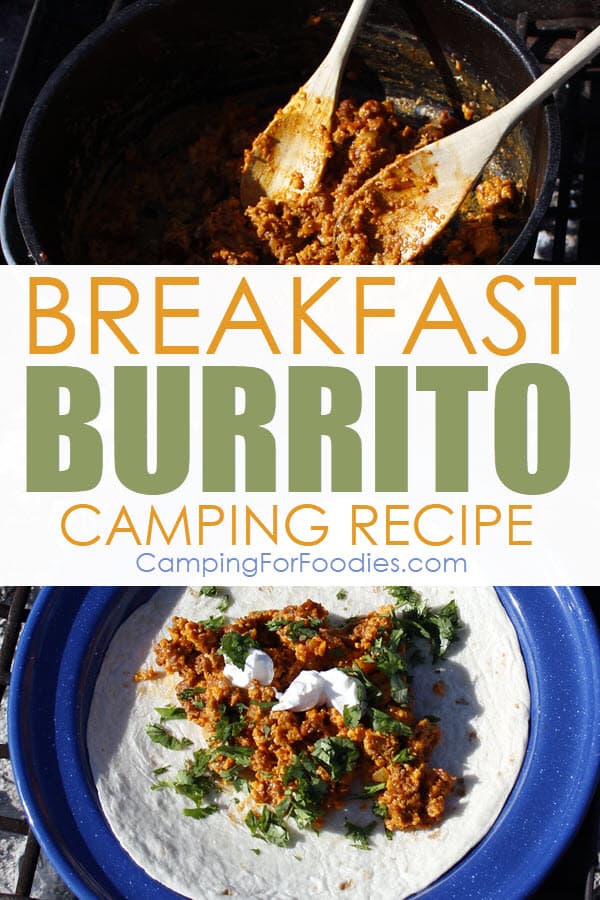 If you'd rather skip the carbs and eat with a fork, try these burrito bowls. Start with a nice scoop of black beans and top with cheesy scrambled eggs, avocado, and salsa that you cook on a stovetop in 10 minutes!
If you want to get extra fancy, top your breakfast eggs with this easy Chipotle Mayonnaise. The secret to all of the flavor in such a simple recipe is letting the chipotle pepper in adobo sauce do all the work for you! It makes a great dipping sauce for burgers and grilled potato wedges too!
---
More Yummy Meal Ideas
Get creative with your next menu and try some new recipes.