Memorial Day Weekend Camping Trip In 10 Easy Steps
The key to any stress-free camp weekend is planning. It's a bummer to discover you forgot to pack the toothpaste!  There is a little extra stress associated with where to camp Memorial Day Weekend because it is the first big holiday weekend of the summer camping season. Some anxious campers think it's a race to beat the crowds because campsites are not always available and can be booked well in advance of the holiday. But, rushing and hurrying actually adds stress and the likelihood a really important item will be left at home. So, here are a few tips to make sure your Memorial Day weekend camping trip is a stress-free success. Psst we're compensated…see our disclosures.
---
Memorial Day Weekend Camping Trip Stress-Free Tips
---
As Far In Advance Of Your Memorial Day Weekend Camping Trip
Step 1. Make your reservations.
Travel Case For Small Electronics
If you are camping in a campground or in an RV park, put the printed reservation information in a trip kit and store it in your vehicle's glove compartment. I like using organizers like this travel case to store campground reservation information as well as other important papers like vehicle insurance and registration certificates. It's also handy for small electronics, power adapters and memory cards. This will ensure you don't forget your campground reservation information and it will be easily accessible when you need it. 
&
---
VIDEO TIPS: Don't worry if everything is booked and there are no campsites available Memorial Day Weekend, I've got tips and a VIDEO to help you turn your campground trip in to a dispersed camping trip. If you waited too long before trying to make your Memorial Day weekend campground reservation and they're all full…don't give up…go dispersed camping!
&
---
The Weekend Before Your Memorial Day Weekend Camping Trip
Step 2. Get your vehicle ready.

AAA 76-Piece Excursion Road Kit
Check your vehicle fluid levels, lights, tire pressures and battery condition to improve the odds for a no-breakdown, side-of-the-road weekend. And, for extra precaution make sure you have an Excursion Road Kit  for unexpected situations. You should also verify your roadside assistance plan is up-to-date and includes trailer towing if you are going to be pulling your home-away-from-home on wheels for your Memorial Day weekend camping trip.
&
---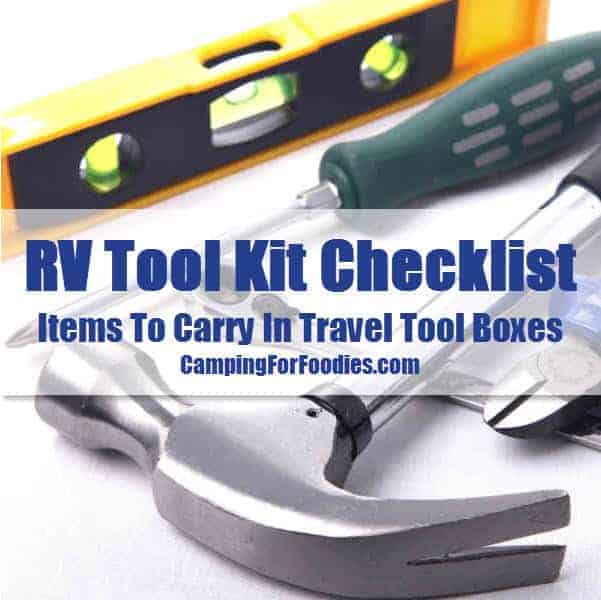 We have a FREE printable RV Tool Kit Checklist too! One thing that is certain, traffic is more congested that normal on summer holidays. Being prepared with basic tools is important so you don't have to fight the crowds to head to the nearest hardware store when camping on Memorial Day Weekend. Come to think of it, who would EVER want to leave the campsite to go shopping for a tool they forgot to pack??? 😉
&
---
Step 3. Check for fire restrictions before planning your menu.

Fold N Go InstaStart Propane Stove
If your Memorial Day weekend camping trip involves campfire cooking or charcoal grilling … and … you're not allowed to have open flames because of fire restrictions … your propane stove will save the day! The Authorities usually establish fire restrictions well in advance of big holiday weekends so plan your menu accordingly. I have used my Coleman Fold N Go 2-Burner Propane Stove when campfires and charcoal were prohibited and became the campground hero instantly!
&
---
I've got some great camp recipes that will have your camping clan begging for seconds! YUM 🙂 After you decide where to camp Memorial Day Weekend, you need to check for available cooking tools and equipment too. If you plan on grilling your meals, make sure the campsite has grills available and you'll just need to bring charcoal. There may be flip down grill grates at campfire rings but don't make that assumption. In other words, know what cooking equipment is available on site and be prepared to bring additional equipment if needed.
&
---
Step 4. Plan your menu, shop and pack food.
I like to shop for and pack all of the non-perishable food items on my list the weekend before we travel. Then, I just have a short list of perishable items I need to pick up at the last minute. Using a Comprehensive Grocery List Planner helps me to get everything I need for my Memorial Day weekend camping trip menu! (If you need menu ideas, I have 50+ camping recipes ideas that are great for the campsite or the backyard!)
&
&
---
Step 5. Pack your clothes and gear.
I like to pack my clothes and gear the week before and then just load it into the car before pulling out of the driveway for our Memorial Day weekend camping trip. It's a drag to hike in your flip flops (no matter how cute they are) because you forgot your hiking boots at home!  And, sleeping under the stars is great if by choice … it's not so great if you are doing it because you forgot your tent in the garage! 😉
&
&
---
Get tips and your FREE printable copy of our Ultimate RV and Tent Camping Checklist! This thing is great for Memorial Day weekend camping and beyond! Actually, any weekend is a great weekend for camping and using this awesome checklist! 😎
&
---
The Night Before Your Memorial Day Weekend Camping Trip
Step 6. Check for traffic and construction.

2018 Rand McNally Road Atlas
"Parking" on the highway is a huge bummer! If your planned route is under construction or closed because of an accident, you want to easily navigate alternate routes. I like having an old-fashioned paper road atlas old-fashioned paper road atlas in addition to the electronic version.
&
---
Some of my favorite sources for information include U.S. Department of Transportation Federal Highway Administration, you will find regional links as well as weather condition information too. The Arizona Department of Transportation has great information if your Memorial Day weekend camping trip is happening in the The Grand Canyon State.
&
---
Step 7. Fuel up.
No-Spill Poly Gas Can CARB Compliant
I like to hit the road with momentum, especially during busy times like Memorial Day weekend camping trips! In addition to washing our windshield the night before our departure, we fill our vehicle gas tank and an extra gasoline can or two depending on our travel route. It is always good to be prepared with a little extra fuel especially when you are camping in remote areas without lots of services.
&
&
---
Step 8. Check the forecast.
I hate surprises!  It's a good thing to check the weather forecast to know if you should expect raindrops or sunshine along your route as well as at your destination. You may decide to take an extra umbrella so you can pull a Gene Kelly Singin' In The Rain on your Memorial Day weekend camping trip, but you want to do that with eyes wide open!
&
&
---
If the weather forecast is dry and you are faced with fire restrictions, you will need to be prepared to change your cooking and activity plans. Because we live in Arizona where it is hot, dry and prone to wildfires, government officials are extra cautious on busy holiday weekends and tend to trigger fire restrictions which may impact where to camp Memorial Day Weekend. We have tons of tips in our How To Camp When Camping Fire Restrictions Are Activated post so be sure to check it out!
&
---
Step 9. Pick up the perishables.

Coleman Xtreme Series Wheeled Cooler
The night before your departure, make a quick trip through the store to get the perishable items on your Memorial Day weekend camping trip grocery list. And whatever you do, don't forget the ice! No excuse is good enough to suffer through a lukewarm beer! I like to put our beverages in one cube cooler topped with ice. This thing is easy to load, has a locking telescoping handle and wheels for easy transportation. Plus, it doubles as a sort of side table with four drink holders molded into the lid which is awesome when you are at a campsite that is not perfectly level!
&
---
The Morning Of Your Memorial Day Weekend Camping Trip
Step 10. Load, lock and go.

Camper Trailer RV Camping I Heart Love Keychain Key Ring
The morning of your departure, load the stuff you packed last weekend and lock up your house.  It's annoying to wonder if you forgot to lock the front door … so don't be annoyed. Have a designated person that is responsible to ensure the house doors and windows are locked, the alarm is set and the coffee pot is off (and any other item you can think of that would just bug the heck out of you to wonder about while you are trying to enjoy your Memorial Day weekend camping trip!)
&
---
No time to look for recipes, create a menu and write a grocery list? No Problem! Get our 3-Day Dutch Oven Camp Menu Plan here!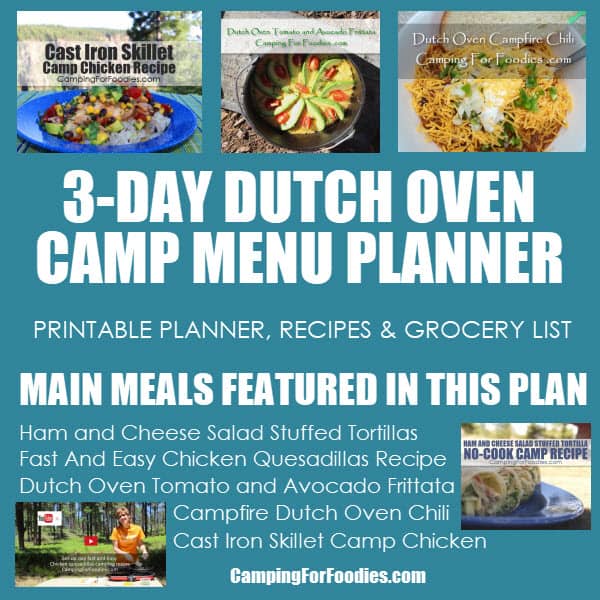 ---
You might find a few of our other camping posts helpful for your Memorial Day weekend camping trip!
---
With all of that said, make sure to have fun and remember the reason for the season. Sure, it's really nice to have an extra day off from work … but, be sure to plan a little (or a lot) of time to pay tribute to those who have died while in service to our nation because that is what Memorial Day is really all about.
Hope to see you on the trail soon enjoying my camping tips and recipes! You'll find my 50+ camping recipes that are great for the campsite or the backyard here!
If you need camping recipes and menu ideas, you can find them here at the Camping For Foodies Camping Recipes list.
Don't miss a thing…sign up for Camping For Foodies email updates!
Your purchase of our products will help support World Vision ® Building a better world for children.
---