50+ Memorial Day Camping Recipes for Your Holiday Menu (they work in the backyard too!)
Memorial Day Menu Recipes For Campsites Or Backyards
You don't have to settle for the old hot dogs, beans and potato salad recipes for your Memorial Day weekend camping menu. No matter your cooking preference … Dutch ovens, campfire, grill, camp stove, RV stove/oven etc … we have recipes that the whole family will enjoy! And, if you are staying home, these camping recipes work great in the backyard too! Psst we're compensated…see our disclosures.
---
Dutch Oven Memorial Day Menu Recipes
 Camping Dutch Oven BBQ Ribs Camping Dutch Oven Lasagna Recipe Dutch Oven Pizza Camping Recipe
&
---
You'll find really helpful information including a Dutch Oven Temperature Chart in our Dutch Oven Camp Cooking Tips post. We also have an entire post dedicated to Dutch oven campfire cooking with recipes for breakfast, lunch, dinner and dessert! You'll find those recipes and more in our Dutch Oven Recipes For Camping post.
&
---
Lodge Durable Pan Scrapers
Disposable Dutch Oven Liners
Lodge Camp Dutch Oven Tote Bag
&
---
Campfire Or Grill Memorial Day Menu Recipes
 Grilled Flatbread With Prosciutto Grilled Sweet Corn Hobo Stew Recipe For A Campfire
&
---
Campfires and grills can be extremely hot so be sure to stay a safe distance from your campfire and use cooking equipment that will protect you from burns.
Lodge Camp Dutch Oven Lid Lifter
Camp Chef Heat Resistant Gloves
Lodge Camp Dutch Oven Lid Stand
&
---
Propane Cooktop Memorial Day Menu Recipes
 Cast Iron Skillet Camp Chicken Recipe Quick and Simple Pastrami Reubens Grilled Veg And Black Bean Tortilla
&
---
Camp stoves are great … especially when you are required to cook with propane in times of fire restrictions. For most of us, camping includes grilling and campfires.  Sadly, when rain has been scarce and the forest is dryer than laundry lint, the dreaded "No Campfires" and "No Charcoal" restrictions come out … ugh!  I've been stuck with an "uncookable menu" in the past. So, I have a list of camping recipes that require only a propane stovetop for preparation. I've got you covered for your Memorial Day menu recipes! We have tons of helpful tips in our How To Camp When Camping Fire Restrictions Are Activated post. Also, don't forget that those disposable 1-pound propane bottles can be refilled by using a refill adapter!
Coleman Eventemp 3 Burner Stove
Coleman Stove Carry Case
Disposable Bottle Refill Adapter
&
---
No-Cook Memorial Day Menu Recipes
 Basil And Prosciutto Sandwich Fruit In Honey Mint Syrup Tangy Coleslaw Camp Recipe
&
---
No cook options can often be prepared in advance and kept refrigerated until you are ready to eat. One caution … Avoid soggy sides! For salads, make sure you transport the dressing in a separate container and toss just before mealtime.
Food Storage Containers
Igloo Quick And Cool Cooler
Knifes With Sleeve Covers
&
---
Camping Smores Memorial Day Menu Recipes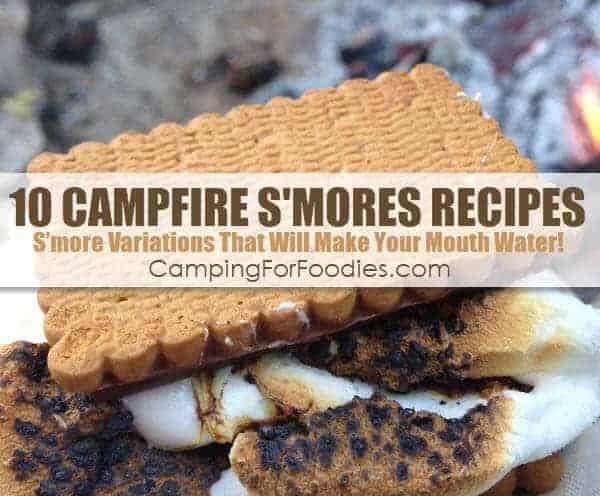 S'mores are a MUST on the menu to kick off the summer camping season on a Memorial Day Weekend camping trip! Check out all of our yummy recipes in our 10 Mouth-Watering Smore Variations post. #2 Just Might Change Your Life! 😋 If you have not seen the coolest marshmallow roasting sticks, you are gonna love the Telescoping Rotating Marshmallow Roasting Sticks, the Fishing Pole Campfire Roaster and the Reach N Roll Campfire Roasters!
&
---
Telescoping Marshmallow Sticks
Fishing Pole Campfire Roaster
Reach N Roll Campfire Roasters
&
---
Camping Cocktails Memorial Day Menu Recipes
 Lemon Mint Cocktail aka Mint-Kissed Lemontini Cocktail Recipe Kona Grill's Strawberry Basil Lemonade Secret Cocktail Recipe Slightly Sweet And Tart Raspberry Lemon Drop Cocktail Recipe
&
---
Camping cocktails MUST be refreshing but DON'T have to include booze. Most of ours are "alcohol optional" recipes and family-friendly. We love using fresh fruit and herbs to make cocktails and mocktails for Memorial Day camping drink menu special treats!
Flexible Cutting Mat
Cocktail Shaker Gift Set
Unbreakable Martini Glasses
&
---
No time to look for recipes, create a menu and write a grocery list? No Problem! Get our 3-Day Dutch Oven Camp Menu Plan here!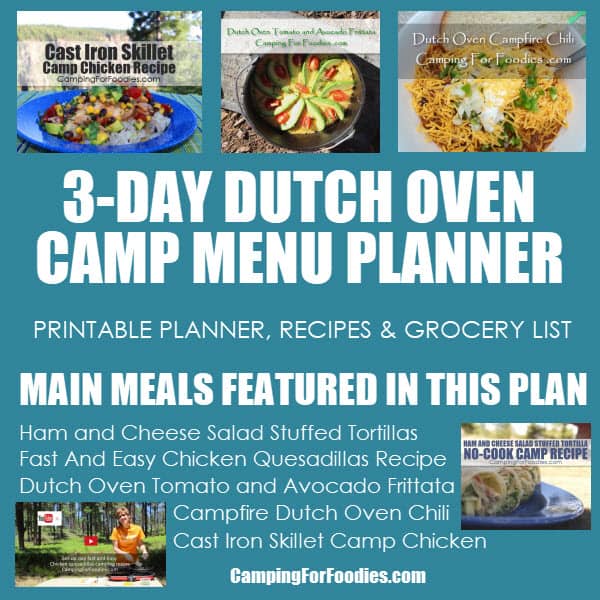 ---
See More Memorial Day Menu Recipes…
You'll find the entire list of 50+ camping recipes that are great for the campsite or backyard here!
And a little extra help in our Memorial Day Weekend Camping Trip In 10 Easy Steps post.
If all the campgrounds are booked, here is a video and tips to turn your trip in to a dispersed camping adventure.   If you waited too long before trying to make your Memorial Day weekend campground reservation and they're all full…don't give up…go dispersed camping!
---
&
---
You will also love these great sources for information on camping, fire restrictions and other helpful information.
For national camping, recreation and incident information:
For camping in Arizona at the state parks:
For recreation and camping information within counties in Arizona:
Enjoy this Memorial Day holiday and please don't forget to celebrate and pay tribute to those who have paid the ultimate price in service to our country.
---
If you need camping recipes and menu ideas, you can find them here at the Camping For Foodies Camping Recipes list.
Don't miss a thing…sign up for Camping For Foodies email updates!
Your purchase of our products will help support World Vision ® Building a better world for children.