Tomato & Avocado Dutch Oven Frittata: Delicious Camp Breakfast
Frittatas make some of the best camping breakfast ideas! This Tomato & Avocado Dutch Oven Frittata is easy to whip up and every happy camper gets to eat together, rather than making eggs to order for each individual.
Psst we're compensated…see our disclosures.
Cooking Methods & Equipment
This recipe can be made in a Dutch oven, camp oven, solar oven or RV oven. I use a 10-inch pot or pan. If your cooking vessel is larger, your frittata won't be as thick.
If you are making this as one of our easy campfire recipes, you'll need to get your fire going in order to cook over coals (not flames), you can also use charcoal briquettes. You'll need about 25 coals.
You can also make this as one of our camp stove recipes if you have a dome and heat diffuser plate. Get your stove ready for cooking on a level surface.
Dutch Oven Dome & Heat Diffuser Plate
If you have never used this equipment, we have a detailed blog post with a VIDEO. Learn how to cook with a Dutch oven dome and heat diffuser plate on a propane stove instead of using campfire coals or charcoal briquettes as your heat source.
---
Recipe Steps
For those with dietary restrictions this is a GF recipe, see all of our gluten free camping food ideas. It is also a low carb recipe so it's a great option for campers looking for yummy keto camping food ideas.
Step 1. Prepare your cooking equipment and chop your ingredients.
When I have the choice in baking methods, I tend to choose cast iron ovens to make my Dutch oven camping recipes.
Step 2. Preheat your oven to 400 degrees (for a 10 inch oven you need 25 coals total = 17 Top/8 Bottom). See my Dutch Oven Temperature Chart post for more information and tips.
NOTE: baking times vary depending on outside air temperature, elevation and humidity so be ready to make adjustments as necessary.
Step 3. Heat the fat and sauté the veggies. You will melt the butter with the olive oil first. Then add the onion and garlic and cook till softened.
Step 4. Add the spices. To the veggies, mix in the basil, oregano, salt and pepper.
Step 5. Beat the egg mixture and add to Dutch oven. In a bowl, beat the eggs and milk then pour it over the garlic and onion mixture in the oven.
Step 6. Cover and bake. Place the lid on the Dutch oven and bake at 400 degrees (for a 10 inch oven you need 25 coals total = 17 Top/8 Bottom) until the frittata is almost firm, about 10 minutes .
Step 7. Add cheese and finish baking. Now you will add the cheddar cheese to the top of the frittata, replace lid and continue cooking until cheese is melted and frittata is firm, about 5 more minutes.
Step 8. Top and serve. Remove the frittata from the heat and top with avocado, cherry tomatoes and fresh basil. Serve warm.
---
Oven Size
Camp Cooking Tip: You can use whatever size Dutch oven you'd like to make this delicious breakfast, just remember the smaller the oven the thicker the frittata and vice versa.
I like using a 10 inch oven for this recipe but a 12 inch oven will work too … you'll just have a wider frittata that is not as thick. Adjust the number of coals to get the desired heat for the size of oven you are using.
Weber Rapidfire Chimney Starter
If you are using charcoal briquettes, a Rapidfire Chimney Starter is great because it is a fast, efficient and clean way to light your charcoal.
---
Pairings
This frittata pairs well with fresh fruit. If I want to get really fancy, I make my Fresh Summer Fruit Tossed In Honey Mint Syrup!
This is one of my vegetarian camping recipes, so, I serve it with a side of bacon or sausage to satisfy the meat-lover campers in my clan.
Get your FREE printable camping trip & menu planner before you create your next meal plan!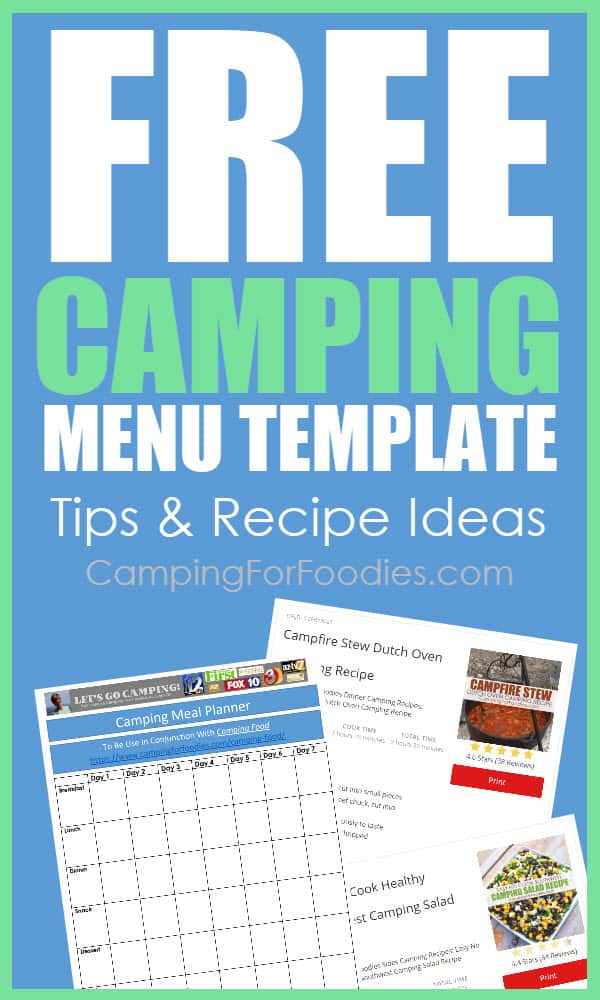 ---
Substitutions
You can totally change the flavor profile of your frittata too by swapping out a few ingredients.
Using regular butter is perfectly fine but if you want to add a little more flavor, use basil butter instead. If you don't have your own recipe, my basil butter recipe is easy and freezable so you can make it way in advance at home and freeze it so it is ready to use on any camp trip.
---
Similar Recipes
This cast iron frittata is like a crustless quiche. If you want something more traditional, try this Bacon And Cheese Dutch Oven Quiche.
This Egg Bake requires no chopping! It's a ​casserole dish that includes eggs, sausage and potatoes.
Our Mountain Man Breakfast is more cheesy, meaty, and moist than the traditional version. It has a slightly spicy touch of the southwest for a little extra zing.
This Bacon Avocado Wrap is a warm and savory hand-held meal that is perfect to enjoy on-the-go.
This Swedish Oven Pancake is a custard-type of pancake that is baked in an oven. The batter creates a bottom crust that is sort of like a combination of a popover and a crepe.
The flavor and texture combinations in these New Mexican Huevos Rancheros are amazing. A fried tortilla is topped with beans, a fried egg and warmed salsa.
Let the chorizo sausage do all the work for you to add flavors to your eggs when you make these Camping Breakfast Quesadillas.
My Dutch Oven Camp Cooking Tips blog post has tons of helpful camp cooking tips!
Print This Recipe
Tomato And Avocado Dutch Oven Frittata
Camping For Foodies Breakfast Camping Recipes: This camping frittata is a refreshing change from the standard morning camp meal.
Ingredients
1

tablespoon

butter

2

tablespoons

olive oil

1

small

onion

chopped

1

clove

garlic

minced
Dried Spices
1/2

teaspoon

salt

1/4

teaspoon

black pepper

1/2

teaspoon

dried basil

1/2

teaspoon

dried oregano
Egg Mixture
6

large

eggs

beaten

1/4

cup

whole milk
Toppings
1

cup

shredded sharp cheddar cheese

1

avocado

sliced

3

cherry tomatoes

sliced into quarters

3

fresh basil leaves

chopped (optional)
Instructions
Pre-heat a 10 inch Dutch oven to 400 degrees F (25 coals total = 17 on top of lid/8 below bottom of oven).

Heat butter and oil in bottom of pot.

Sauté onions and garlic.

Add the dried spices.

Beat the egg mixture in separate bowl, then pour it over the garlic and onion mixture in the Dutch oven.

Rotate while baking with lid on for about 7-10 minutes until the frittata is almost firm.

Add the cheese to top of frittata, replace lid and continue cooking until cheese is melted and frittata is firm.

Remove from heat and top with avocado, tomatoes and basil just before serving warm.
Nutrition Information
Serving:
1
g
Calories:
265
kcal
Carbohydrates:
6
g
Protein:
11
g
Fat:
22
g
Saturated Fat:
8
g
Polyunsaturated Fat:
2
g
Monounsaturated Fat:
10
g
Trans Fat:
0.1
g
Cholesterol:
189
mg
Sodium:
402
mg
Potassium:
297
mg
Fiber:
3
g
Sugar:
2
g
Vitamin A:
606
IU
Vitamin C:
6
mg
Calcium:
185
mg
Iron:
1
mg
---
More Meal Ideas
Try some new and exciting recipes on your next trip.