22 Recipes For The July 4th Camping Weekend That Include A Little Red, White And Blue Food
Color-themed food is a fun way to celebrate any holiday.
As much as I love grazing through a picnic table of food in the holiday theme, I realized my favorite camping food usually doesn't adhere to the color code on our patriotic holidays.
So I went on the hunt to find fun red, white and blue recipes across the web and have 22 R,W & B July 4th Camping Recipes … and even more 4th of July camping food ideas that are out of the color scheme but totally yummy!
Psst we're compensated…see our disclosures.
4th of July Camping Food Ideas
We'll start with the red, white and blue recipes and then some of our summertime favorites.
Food Ideas For 4th Of July Camping
You can celebrate the holiday in red, white and blue food or just traditional awesome summer camping food!
This patriotic dessert is simple and festive.
This Dutch baby is great for breakfast or dessert.
Who doesn't love BBQ ribs during summer camping trips?
This almost-gourmet appetizer is simple and elegant.
Try these blueberry muffins with a cup of coffee for breakfast or a slightly sweet and tart dessert.
This cobbler is great on its own or with a scoop of ice cream!
More July Fourth Camping Food Ideas
Here are some summer favorite camp food ideas!
We like serving this pita recipe for brunch!
BLTs are fast and fabulous camp lunches.
Talk about easy and flavorful dinners!
This easy recipe gets RAVE reviews!
Enjoy your favorite salad in a tortilla for a quick camp lunch.
No-cook big salads are wonderful meals for hot summer camp trips.
This wrap is so easy and delicious!
This hand-held breakfast sandwich is always a crowd-pleaser!
Red, White and Blue Recipes From Across The Web!
Blue and White Potato Gnocchi with Fresh Red Tomato Sauce Recipe
Try this homemade potato gnocchi with a fresh tomato sauce Get the recipe here.
Grilled Chicken with Red & Blue(berry) Salsa
Enjoy this savory red, white and blue chicken dish. Get the recipe here.
Grilled Blackberry, Strawberry, Basil and Brie Pizza Crisp with Honey Balsamic Glaze
Brie with fresh fruit ... yes please! Get the recipe here.
Red, White, and Blue (Berry) Green Salad
Don't you just love a little feta in your salad? Get the recipe here.
Red White and Blue Potato Salad
Potato salads and 4th of July just go together. Get the recipe here.
Red, White & Blue Salad
Blueberries, beets and goat cheese are the stars in this salad. Get the recipe here.
Red Velvet Pancakes with Coconut Syrup and Blueberries
Who needs red velvet cupcakes when you can have pancakes! Get the recipe here.
Red White and Blueberry Cheesecake Bars
Cheesecake bars are perfect for summer camping. Get the recipe here.
Fourth of July Crème Filled Strawberries
These strawberries are stuffed with a vodka-spiked whipped cream. Get the recipe here.
Red, White & Blue Mini Fruit Pizzas
Make a mini pizza with a sugar cookie! Get the recipe here.
Summer Berry Crostini with Lemon Ricotta + Honey
Ricotta and lemon offset sweet fruit nicely. Get the recipe here.
Triple Berry Gingersnap & Granola Yogurt Parfait Recipe
Yummy and healthy! Get the recipe here.
Stars and Stripes - Red, White and Blue Layered Shot
Grenadine, peach schnapps and blue curacao make a festive layered shot! Get the recipe here.
Fireworks Red, White and Blue Daiquiris
Get your blender ready for this patriotic-colored cocktail. Get the recipe here.
---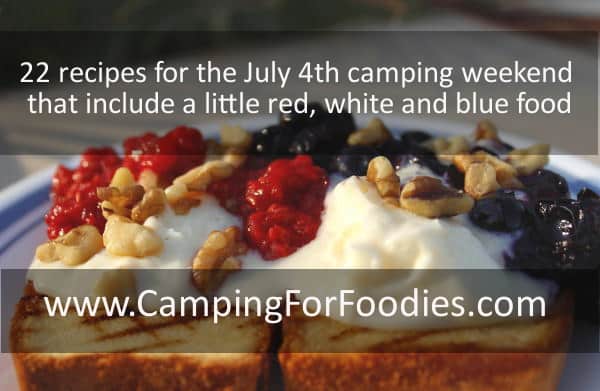 ---
July 4th Camping Recipes That Are Not Red White And Blue
Don't Care About Red, White And Blue? 
Not everybody cares about cooking and eating color-coordinated food on their camping trips (holiday weekend or otherwise) … so I've included a link here to my list of camping recipes that include Dutch oven recipes, campfire cooking, camp stove recipes and more!
---
July 4th Camping Recipes And Food Safety
When you are camping in the heat of the summer, it is super important to handle your food safely so you don't have anyone getting sick from food poisoning.
If you are tent camping or RV camping on the Fourth of July holiday weekend, be sure to check our Camping Food Safety Tips Including How To Pack A Cooler For Camping post for helpful tips!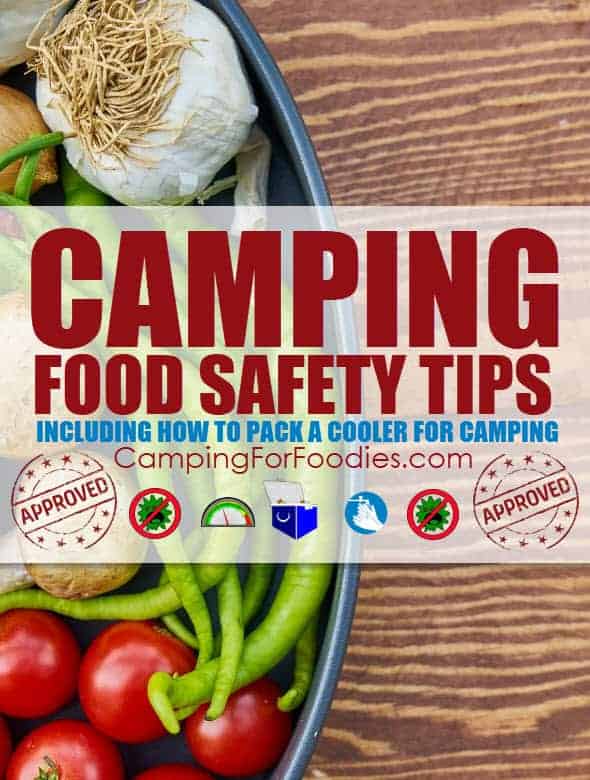 ---
 See Our Trip Planning Tips For Camping on July 4th!
---
July 4 Fun Fact
Q: Did you know Independence Day shares the July 4 calendar date with another lesser-known food holiday? Which holiday is it?
A. National Hotdog Day
B. National Ice Cream Day
C. National Barbecued Spareribs Day
D. National Fried Chicken Day
Drum roll, please….
A: National Barbecued Spareribs Day Is Celebrated On July 4
The Reason For The Season: 4th of July
No matter what you put on your table during this Fourth of July, don't forget to celebrate the holiday.  
July 4th…It's a party of independence!  It was on July 4, 1776 that the Declaration of Independence was adopted declaring our independence from the Kingdom of Great Britain.
If you're looking for awesome ideas for yummy camping food, you're in the right place!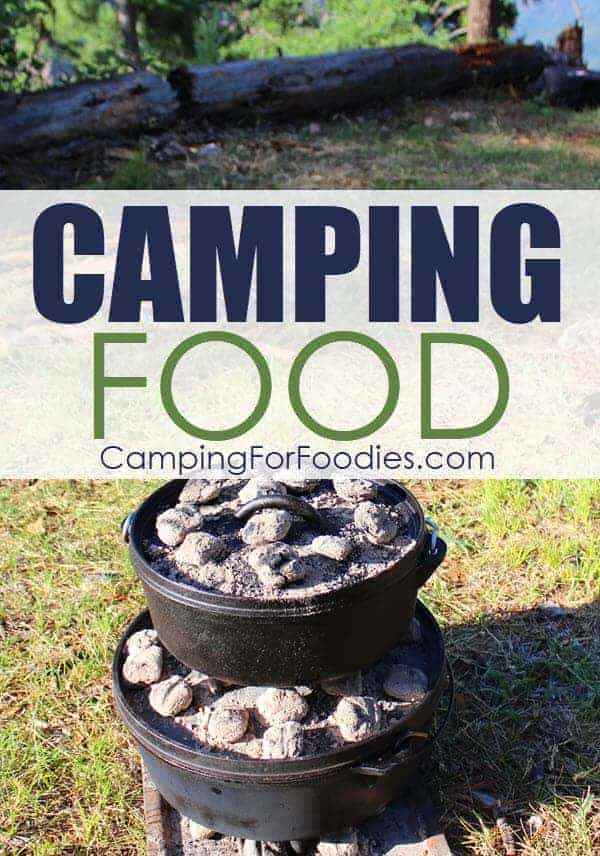 Here's our entire camping recipes list.
Get FREE camping tips and recipes emailed to you!
Our Camping Products Make Great Gifts!
Flexible Cutting Mat
Cutting Mat Set
Stainless Steel Cocktail Shaker Set
---