Awesome Super Bowl Tailgating Food Recipes
Food and Super Bowl go together!
Camp recipes are not just for the great outdoors…they are AWESOME for Super Bowl tailgating parties! Whether you are at the big game tailgating or throwing a party in your own backyard…You'll find the perfect food for the event. I've compiled some of my favorites from my segments on the Great Food Good Neighbors (GFGN) TV show as well as my long-time favorites from the campsite. We can't all have our team in the biggest professional football game of the year but we can enjoy the tailgate food and party! Psst we're compensated…see our disclosures.
---
Funny Apron
Cutting Mat
Mat Set
Shaker Set
Fun Hammock
&
Fun Super Bowl Food Fact
How many chicken wings will Americans eat on Super Bowl Sunday?
According to the National Chicken Council that number is an astounding 1.23 BILLION chicken wings! Get the wet naps ready!
Tailgating Rules for Super Bowl
If you are lucky enough to be tailgating at the University of Phoenix Stadium for the 2015 Super Bowl…Go Green! There is a cool recycling program so take advantage of the FREE recycling bags for Arizona Super Bowl tailgaters!
Charcoal grills and oil fryers are prohibited when tailgating at University of Phoenix Stadium. (Don't worry…I have you covered! I've only listed recipes here that use propane grills or propane stoves!) Check all the latest rules here for the big game.
More Arizona Super Bowl Info
Check out the latest on fan activities, live entertainment, travel tips, resource guides and of course…the game on the Arizona Super Bowl website. And now for the food…
Awesome Super Bowl Tailgating Food Recipes
Remember: No charcoal grills or oil fryers are allowed when tailgating at the University of Phoenix Stadium so my list here is going to make it easy for you to follow the rules!
Breakfast
Pumpkin Walnut Pancakes with a Mascarpone Drizzle recipe as seen on the GFGN TV show
Kit Cook Off Submission #1: Peachy Nutty Pancakes camp recipes
To fork or not to fork…the Southwestern Breakfast Burrito camp recipes
Snacks, Sauces, Spices and More
Video: Set-up day fast and easy chicken quesadillas camping recipe from Camping For Foodies
Chorizo Quesadilla camp recipes
Chips with Fresh and Spicy Salsa camp recipes
Rosemary Spiced Nuts camp recipe
Blue Cheese and Chive Mayo camp recipes Camping For Foodies
Cajun Spice Mix camp recipes
Cajun Cream Sauce
Mains
Turkey Panini with Avocado Mayo camp recipe
Bacon with Basil Mayo on Ciabatta camp recipes
Prosciutto and Basil on Ciabatta camp recipes
Ham and Cheese Salad Stuffed Tortillas camp recipes
Citrus and Spinach Salad with Grilled Shrimp camp recipe
Pasta with a Garlic and Sun-Dried Tomato Cream Sauce camp recipe
Let's hear it for the Shrimp Po Boys!
Drunken Meatballs Over Spaghetti from Camping For Foodies
Blue Cheese and Bacon Stuffed Burger camp recipes Camping For Foodies
Blackened Trout with Cajun Cream Sauce camp recipes Camping For Foodies
Beef With Broccoli And Carrot Stir Fry camp recipes
Mediterranean Chicken Pitas camp recipes
Middle Eastern Inspired Chicken camp recipes
3TV Shrimp Tacos with Jalapeno Lime Sauce camp recipes
Dijon Jalapeno Chicken camp recipes
Chill-Fighter Chili camp recipes
Kit Cook Off Submission #4: Spicy Chicken and Corn Chili camp recipe
Forest Fire Shrimp Pasta, camping food recipes
Sides
Caesar's Salad Dressing That Does Not Need "The Rule"!
Herb and Caper Couscous camp recipes Camping For Foodies
Cucumber Corn Balsamic Salad camp recipes Camping For Foodies
Greek Tomato and Feta Pasta Salad camp recipes Camping For Foodies
Spice up your life with Rice Moroccan Style camp recipes
Grilled Parmesan Crusted Broccoli camp recipes
Cranberry and Toasted Almond Spinach Salad camp recipes
Retro Potato Salad camp recipes
Kit Cook Off Submission #3: Mexican Three Bean Salad camp recipes
The broccoli-hater converter: Sweet and Salty Broccoli Salad, camp recipes
Jalapeno Pineapple Mango Salsa
Picky People Pleaser Potato Salad camp recipe, also known as Bacon and Chive Potato Salad
Desserts and Cocktails
Channel 12 Arizona Midday features 4th of July Red White & Blue Topped Pound Cake camp recipes Camping For Foodies
Kit Cook Off Submission #5: Chocolate Covered Peanut Butter Balls camp recipes
Chocolate Covered Almond Mocha On The Rocks
Red Grapefruit Fizz Cocktail
Mint-Kissed Lemontini cocktail camp recipes Camping For Foodies
Fruity-Tini Cocktail Camp Recipes
Sonoran Sunset Sensation cocktail camp recipes
Snugglin' In The Hammock cocktail camp recipes
Rim View Rum Refresher cocktail camp recipes
Modern Margarita's Classic Mojito cocktail recipe is great for camp cocktail hour
Kona Grill shares their Strawberry Basil Lemonade secret recipe with Camping For Foodies
No time to look for recipes, create a menu and write a grocery list? No Problem! Get our 3-Day Dutch Oven Camp Menu Plan here!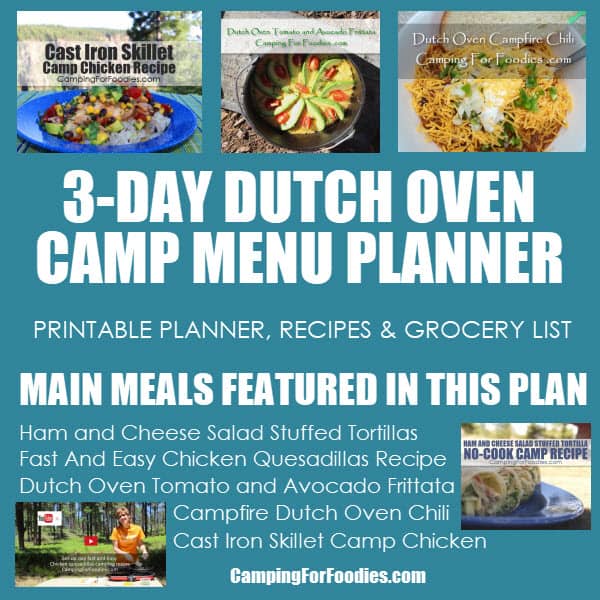 If you need camping recipes and menu ideas, you can find them here at the Camping For Foodies Camping Recipes list.
Don't miss a thing…sign up for Camping For Foodies email updates!
Your purchase of our products will help support World Vision ® Building a better world for children.